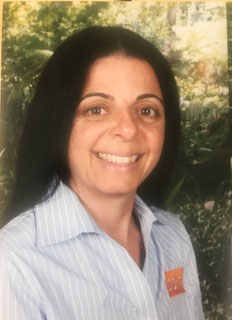 What is your current position at SDN?
I'm the Centre Administrator at SDN Ultimo.
What has been your employee journey at SDN? How you came to join, how long you have been here, if you have held any other positions?
I have been working with SDN for last 13 years. I started off as the Centre Administrator at SDN Forest Lodge, then moving to SDN Petersham, where I was there for 10 years before being transferred to SDN Ultimo. During my time I have also helped out at other SDN centres.
What is something most people wouldn't know about you?
Most people wouldn't know that I love my 80's rock music. I grew up in the 80's and somehow got stuck in that era...
How do you like to spend your weekend?
I like to spend my weekend relaxing with my family -  I have 2 children aged 14 & 11 - and catching up with friends, and lots of shopping!
What does your perfect holiday look like?
Perfect holiday would be lazing by the pool with my cocktail on a Greek Island, and shopping of course!
Who has influenced you most when it comes to how you approach your work?
I've found that working with a fun, motivated and supportive team along with an understanding and flexible manager influences the way you work for the better.
What was your first job?
My first job was a Project Officer working for Ethnic Child Care Family and Community Services, now known as Ethnic Community Services. I was part of the Casual Ethnic Workers Pool, now known as Bicultural Support. I was there for 10 years, which makes it 23 years of working in the children's services sector for me.
Is there a work related accomplishment that you're really proud of?
An accomplishment I am proud of is the resilience to the changes that often happen at SDN. This makes me a confident and motivated worker within the organisation.

What superpower would you like to have and why?
The superpower that I would like to have is healing the sick and elderly. My father passed away 10 years ago from dementia - such a terrible disease. How nice it would have been to heal him and have him back to being dad...
If you ruled the world, what would you change on Day One?
For everyone to be treated as an equal no matter race, religion, status, etcetera.
What are three things that are left on your bucket list?
Win the lotto, win the lotto, and win the lotto.