Mindful parenting is about being 'present' with your children and being aware of what is happening in the moment.
It is about taking time to stop, pause, clear your mind of all thoughts and ask yourself these questions: 
• What is happening with my child in this moment?
• What does my child feel?
• What does my child need?
• What am I feeling?
• What do I need? 
Families who practice mindful parenting tend to have lower stress levels, be more empathetic to their children and can better model emotional regulation to their children.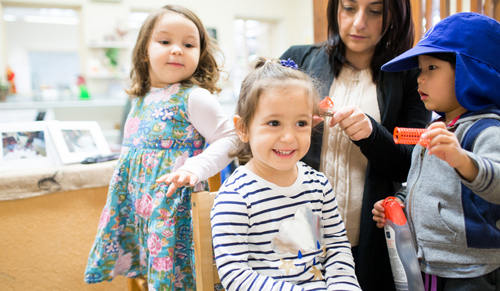 So, given that we all lead busy lives, how can you start to parent more mindfully?
Our Brighter Future's team, who work with families who face challenges, recommend the 'Stop, Pause, Play' approach developed by The Australian Childhood Foundation, a three minute technique that will help you to respond to your child's needs rather than reacting to their behaviour. 
1. STOP: what you are doing
2. PAUSE: focus on your breath
3. PLAY: Respond to your child the way you want to
Discover more about mindful parenting from the Australian Childhood Foundation Website 

• Mindful Parenting- A Bringing Up Great Kids Resource (2012), Australian Childhood Foundation