Children's Therapies
Easing the transition to school
Transitioning a child to school can be a complicated process, but if you work with children with Autism Spectrum Disorder, developmental delay or other disabilities, it gets a lot more complicated.
Saskia Bryant, family resource worker at SDN Beranga Lighthouse, supports families who have children with Autism Spectrum Disorder and understands just how nerve racking this transition can be for families.
"Going to school is a big change for the entire family." Saskia said. "There is a lot for families who have children with a disability or developmental delay to consider, like what type of school is best, how to cope with the change of routine and how to make the change less unsettling for the child."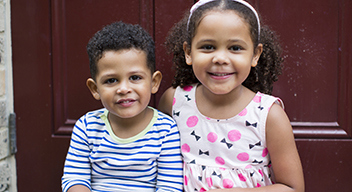 Saskia convenes a transition to school workshop for early childhood educators, enabling them to support the families that attend their centre as their child prepares to transition to school.
"Families are not sure what to expect, there is a lot of waiting and limited choice and control." Saskia said. "Educators have an important role to play in supporting families. They can be an information point helping families to become aware of their options and can also help the families to prepare the child for transition."
At the workshop, educators learn about the different schooling options available for families who have a child with a disability and the steps the families need to take to access these options.
Saskia advises educators to consider each child's individual needs when preparing them for the transition to school. 
'If the child is sensitive to clothing, for example," Saskia said. "It would be helpful to get the school uniform early so they are used to it by the time they start school. Educators can also help to increase the child's independence and help them get used to the everyday changes, like wearing a hat, or keeping their shoes on."
The next transition to school workshop will be held on Wednesday 8 March 201, 6.30-8.30pm at SDN Beranga. You can find out more and download the registration form online.