Parenting
NAIDOC Week story
One of our SDN North Sydney children has been sharing his voice on the importance of the 'Acknowledgment of Country' and Aboriginal culture in his community.
Through his time at SDN North Sydney, 4-year-old Winston has been starting each day in his pre-school room along with friends and educators with an Acknowledgement of Country. Through ongoing learning with SDN from his teachers, Winston has been growing a passion for understanding Aboriginal culture.
During a visit to the exciting Taronga Zoo, Winston and his mum enjoyed some of the daily animal shows, with Winston asking, 'Why don't all of the shows acknowledge Country, Mum?' with the question referred to one of the Taronga team.
Taronga was quick to respond, sending Winston's family an official email letting him know that Acknowledging Country for all their shows was part of the plans once all their staff have learnt it.
In response, Winston decided to help them learn, sending a video of himself doing the Acknowledgement of Country he has learnt at SDN.
SDN North Sydney's Acknowledgement of Country
'Here is the land, Here is the sky, Here are my friends And here am I. I acknowledge that the Cammeraygal people are the original custodians of the land on which we play and learn.'
His video inspired the Taronga staff to make a commitment to include an Acknowledgement in all their shows by NAIDOC Week.
Winston was also invited to meet Taronga's Aboriginal Cultural Advisor (pictured below) where he was welcomed to the land of the Cammeraygal people, together they shared their ideas for acknowledgement across all their shows.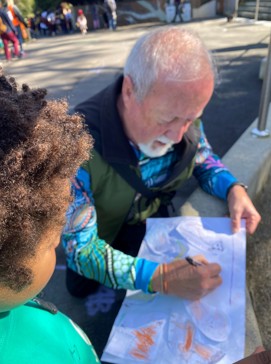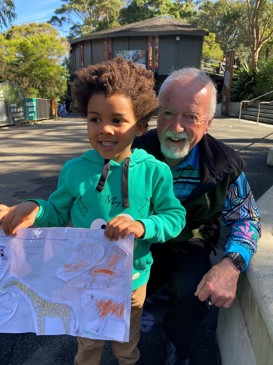 Unfortunately due to current COVID restrictions across Sydney, Winston and his family will have to wait a bit longer to see the new Acknowledgment to Country as part of the shows.
NAIDOC Week celebrates the history, culture and achievements of Aboriginal and Torres Strait Islander peoples.
Across SDN our educators provide children with inclusive learning experiences around the history, culture, stories and traditions of our First Australian's to provide an understanding of our First Australian's and their identity.
Carol, Centre Director at SDN North Sydney shares...
'I am beyond proud that our children are using what they learn with us and connecting with their community and being a strong advocate for our Indigenous community from such a young age.'