SDN Ultimo - Christie Sherfan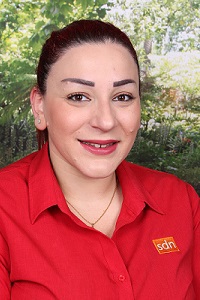 I have been a Centre Director for the past 12 years. I enjoy collaborating with children, educators and families and love being able to help children achieve their potential.
I have been working with SDN for the past 6 years and I moved from another SDN centre to SDN TAFE Ultimo in September 2016. I feel very privileged to be able to work with children and families.
I believe that the early years of a child's life are the most influential. It is in the first years of life that young children develop a sense of themselves and their place within the community.
At SDN Ultimo, communication with our families is paramount and we prioritise keeping you informed about your child's learning and wellbeing.
My most memorable experience as a Director was when I had the opportunity to support a family that was to become homeless. I referred the parent to a support agency that provided accommodation and I was able to place the child in our care. The child and family are now thriving. The smiles on their faces fill me with a sense of achievement and the drive to continue the early childhood journey that I have started at SDN.
It is a pleasure to have the opportunity to take care of your children and give them the best education they deserve.
"I hear and I forget, I see and I remember, I do and I understand" – Confucius