About this Centre
SDN Gumnut provides quality early childhood education and child care, including a preschool program, for 66 children from birth to school age in Lithgow.
Approximately 100 Lithgow families are part of the SDN Gumnut community. Our centre employs 16 staff, all with tertiary qualifications in early education. Many of the educators at SDN Gumnut are familiar faces, having worked here for many years; in fact our longest serving staff member has worked at Gumnut since we opened 32 years ago. Our educational program is shaped by the National Quality Framework for Early Childhood Education and Care, and all our educators stay up to date with best practices in early education so we can offer your child the best possible environment and experiences.
Our educators pay special attention to every child, noting their interests and ideas and using these observations to help each child develop a love of learning, independence, problem solving, and decision making skills. Our program also focuses on the importance of children's social interactions, developing their ability to communicate effectively with each other and with staff.
SDN Gumnut welcomes children with disabilities or developmental delays, and families in need of support and assistance.
Our families say...
"Over the years the staff have helped my child to develop emotionally, intellectually and physically. Overall my child has developed in a balanced and happy manner."
"I really like the staff. They're warm and friendly and have helped my child with separation anxiety. They know what to do so there are no tears."
Learn more
Nutrition and mealtimes
We provide children with a variety of healthy foods, and cater for children with allergies and intolerances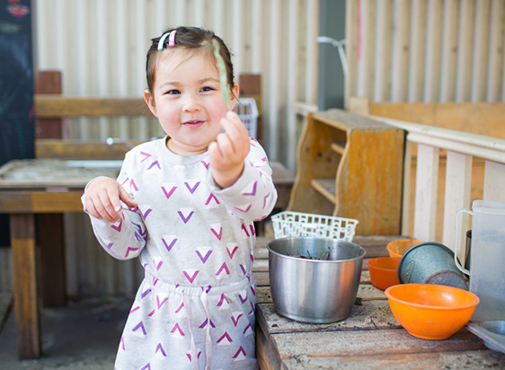 Centre History
SDN Gumnut History
The traditional owners of the Lithgow area are the people of the Wiradjuri Nation.
SDN Gumnut, then known as Gumnut House, first opened on Read Avenue on 5 September 1983. A government survey of the Lithgow community in the 1970s had identified a need for child care in the area, which led to the Lithgow Multi Purpose Child Care Association being formed and then the Gumnut House Committee, comprised of enthusiastic volunteers.
Gumnut was the first long day care centre in Lithgow, with a professionally qualified director, teacher and outreach teacher, and child care workers with a large range of experience, including in working with children with disabilities. Gumnut House moved to Proto Avenue in the 1990s, and became part of the SDN family in 2012. 

Since its beginnings, SDN Gumnut has undergone many changes, always maintaining and reflecting a strong connection with the families of this vibrant and diverse community.
Interested in how SDN Gumnut, Lithgow can help your child?
Call us today on 1300 831 445
sdn centres
Other Centres Near Me