Parenting
Top ten books for 0 - 2.5 year olds
Top ten books for young children from the Educators at SDN Paddington
Reading books to children stimulates their imagination, expands their understanding of the world and it's great for future literacy skills. Reading is great fun for children, but these top ten recommendations from our infant and toddler specialists at SDN Paddington make reading aloud fun for adults too.
Brown Bear What Do You See? – Bill Martin Jnr/Eric Carle. This book has rhyming verse, repeats important verses and has attractive illustrations. The full package!
That's Not My… series– Fiona Watt/Rachel Wells. The sensory aspect of this series is very appealing to infants and toddlers. These books are also a great way to introduce reading a series of books.
Blue and Other Colours –Phaidon editors. A picture book showcasing colours through the art of Henri Matisse. The bold, colourful and contrasting designs on each page are a huge visual attraction to younger children (0-1 years).
Pig in the Pond– Martin Waddell. This book is hilarious! Along with its sense of fun this book supports infants' and toddlers' language with repetitive and fun words and short sentences and attractive illustrations.
Owl Babies–Martin Waddell. Owls are of great interest to many of our Infants and toddlers and this book combines this interest with their interest in family.
My First London Bus–Marion Billet: This was a gift from one of our Paddington families and gave us an insight into a part of their family culture. The simple and effective way it describes life in London really speaks to the 0-2's age group.
Dance– Matthew Van Fleet: We love this book because of its connection to music and dance. Rock out together with the accompanying song that can be downloaded with the book.
Each, Peach, Pear, Plum– Janet Ahlberg: A classic read for infants. The rhyme, illustration and peep holes in this book combine to make a favourite for adults and infants alike. This book also engages toddlers with its story relating to what might be similar to their day to day life.
Where is the green sheep?– Mem Fox: With the repetitive verse young toddlers will be joining in reading with you in no time! Concepts such as up and down, scared and brave, and near and far, as well as colours and shapes and various others are also introduced.
Goodnight Moon– Margaret Wise Brown: The perfect bedtime story! The rhyming text makes it a great choice for younger babies. Toddlers may identify with the bunny's desire to stay awake, but will soon find themselves calm and ready for bed, thanks to the soothing rhyme and description of the bedtime routine.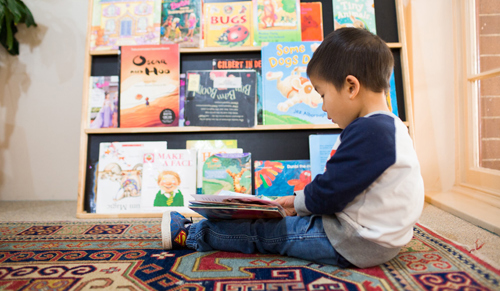 Find out more about our centres