Children's Therapies
Annabelle and Kathleen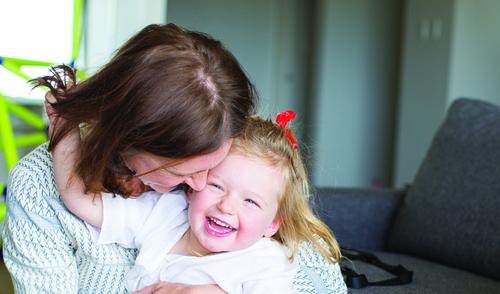 Kathleen's daughter, Annabelle, was diagnosed with autism at age two and a half. She has speech issues and is learning to use an iPad to communicate. Annabelle loves buses and the beach, no matter how cold, hot or wet the weather is. Social interaction is a major part of her therapy, and for Annabelle leaving the house to visit the beach or her specialists plays a beneficial role in her development.
For Kathleen, the two biggest benefits of choosing SDN have been our keyworker approach and our advocacy for her family's needs. Our keyworker is the single point of contact for Annabelle's therapies, but she is supported by a whole team of professionals who provide assessments and recommendations. Our keyworker also takes on a very important role as Annabelle and Kathleen's advocate.
Kathleen: "The advocacy is the biggest part. I am required to participate in many challenging conversations to ensure that Annabelle's needs are met, that she is safe and respected. While there is a wealth of advice and support on the internet and other places, I found my key worker is someone to step in and have conversations on my behalf or advise me. They help to maintain relationships without being demanding, irrational or neurotic, which is often how other people interpret a mum who is trying to advocate for their child. That's what makes the biggest difference."
Annabelle was already attending one of SDN children's education and care centres, but had a different intervention provider who was failing to meet Annabelle's needs. Kathleen spoke with us about what was possible through SDN's disability services and felt that our keyworker approach could be better for supporting Annabelle and her educators, and ensuring that everyone's needs would be met. We were then able to help Kathleen with preparing for the introduction of the NDIS, and consult with her to ensure Annabelle's program of therapy was suitable for both the needs of Annabelle and the family.
"For us, we see progress and celebrate all progress. A huge achievement was the introduction of her iPad to express herself using the program Proloquo2go. Annabelle is non verbal but despite this challenges associated with her complex communication needs, she is a motivated communicator – just the other week, she participated willingly and actively in group news at preschool thanks to her "iPad voice" and the support we have received to implement its use into our daily lives."
Whatever challenges your child faces we provide support as unique as your child. Call us today on 1300 831 445.