Meet and get to know our qualified Children's Therapies team who support children and families to reach their goals.
Aila, Children's Therapies Administrator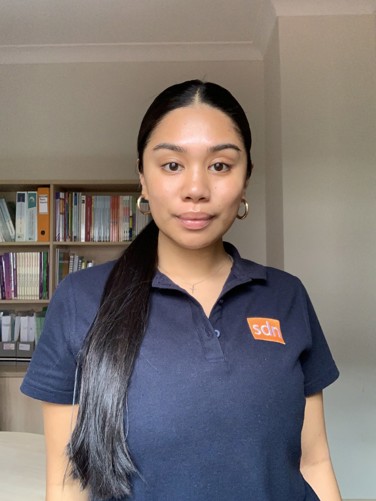 For the past three years, I have been a part of the healthcare sector as an Administrator. During this time, I have become independent, effective in communication and open-minded. Whether I am meeting new faces or liaising with therapists, being of service to others is one of many things I value. I am committed to maintaining integrity, understanding and inclusiveness in my line of work. I am inspired to prioritise my self-development by learning and cultivating my skills through mentors and diverse work environments.
Having the right community is imperative for each individual to thrive. That is why I chose SDN; to be a part of a community where we can guide and nurture every single child's needs. In my role, I work amongst a multidisciplinary team, clinical leads, and managers to prioritise the support of our clients and families.
Arbel, Senior Speech Pathologist
Bachelor of Applied science (Speech Pathology), The University of Sydney.
I believe in the power of communication, and I am passionate about supporting people of all ages to communicate effectively and have positive interactions with others.
I work together with families to support the development of their children. I am a mother of three and am very aware of the juggles of family life. Together we can find enjoyable learning opportunities for your child, throughout your everyday interactions and activities.
I've been a speech pathologist since 2008 and prior to this, have worked in education for many years. I have extensive experience working with children aged 0-17 in their homes, preschools, childcare centres, and schools, in one-on-one and in group settings. I have worked together with parents and teachers to support children's full participation in their everyday environments.
I am committed to lifelong learning and development and continue to attend professional development activities to ensure I provide individualised, current, effective, and evidence-based services to my clients.  
I have an interest, experience and training in the following approaches and programs:
Hanen More Than Words: Certified presenter – Parent training program for children under 5 with Autism or social communication difficulties.
Hanen It Takes Two to Talk: Certified presenter – Parent training program for late talkers and young children with communication delays
Lidcombe Program: a therapy program for young children who stutter
Augmentative and Alternative Communication (AAC): Key Word Sign, Picture Communication, PODD and High Tech AAC.
Cued Articulation: A method to support children's speech sound development.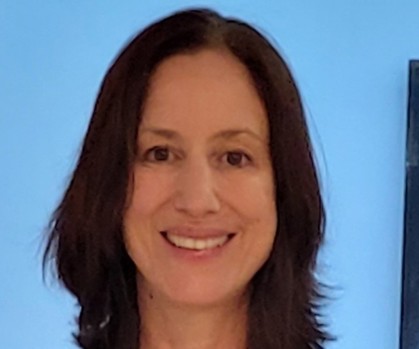 Alexander, Occupational Therapist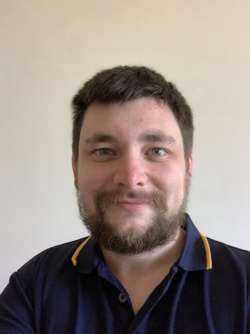 Bachelor of Occupational Therapy
I have always been passionate about working with children, and have been a paediatric occupational therapist since 2018. Since that time I have worked in many schools all around Sydney providing support for classes, small groups, and individuals with various challenges and diagnoses. I have also worked in a clinic setting, on telehealth, and in homes.
I believe that OT should be fun for kids, as well as therapeutic, and that belief is embodied in my work. Each of my sessions is specifically constructed to work towards our goals, but also be fun and motivating. In this way, the children are more engaged and empowered by the therapy process, more motivated to improve, and to meet the goals that we set together.
SDN provides a purpose-built environment for children and their families to grow and learn, and that is why I choose to practice here.
Benjamin, Speech Pathologist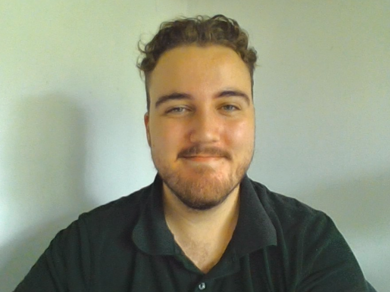 Bachelor of Applied Science (Speech Pathology) (Honours 1st Class)
Growing up with a younger sibling who attended speech therapy, I know first-hand the unique joys and challenges families face when a child has complex communication needs. My approach to speech therapy is to build on the child and family's strengths to create a positive attitude towards communication.
I enjoy learning and teaching others about the relationship between communication and behaviour in childhood. I believe that communication is a human right and all people should be supported to form and maintain meaningful relationships through successful communication.
I have had experience working with children and adolescents with language disorders since 2019, working with clients from age 3 to 17. I have supported children to expand their play skills, increase their vocabulary, transition to school routines, learn letters and sounds, and achieve success in school tasks. I have also taught parents and teachers strategies to encourage language development.
Chloe, Occupational Therapist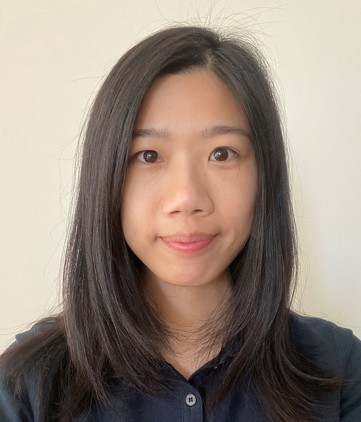 Master of Occupational Therapy, The University of Sydney.
I am passionate about working with children and families to achieve children's potential with a strength-based and family-centred approach. I always strives to provide fun and engaging sessions for the children I work with.
Early intervention is where I feel I can make the most significant impact on the children's life. I find it incredibly rewarding to play such an important role in supporting children and families.
Elissa, Speech Pathologist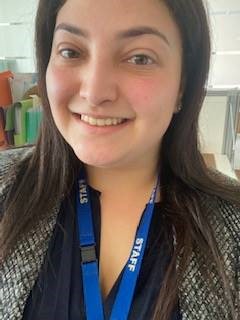 Bachelor of Speech, Hearing and Language Sciences, Macquarie University and Masters of Speech Pathology, University of Technology.
I speak English as well as Lebanese Arabic. Coming from a culturally and linguistically diverse family, I have always been passionate about learning, growing and supporting others.
I have always felt most driven and motivated when I can see that I have been able to assist other's with reaching their goals. This lead me to study a Bachelor of Speech, Hearing and Language Sciences at Macquarie University where I also took additional training into Child Psychology and Early Education. I studied further completing my Masters in Speech Pathology at the University of Technology Sydney.  
Throughout my career I have supported children in various settings including in schools, in clinics, preschools and within the community. I have been fortunate enough to have professional roles in a primary school as an early educator, a Applied Behaviour Analysis Therapist in a clinic and a Speech Pathologist in private and community clinics.
I love working at SDN with clinical leaders, Occupational Therapists and Psychologists. Here I have found my passion to be working with children with Developmental Delays and Autism Spectrum Disorder.
I have a particular interest in administering fluency therapy and supporting children with a stutter.
Krisselle, Reporting and Allocations Analyst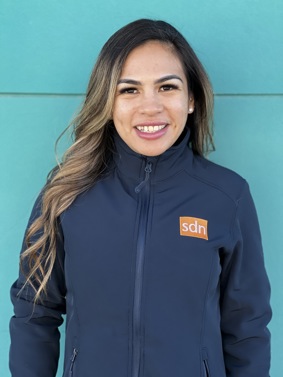 I started at SDN as an admin in February 2021, after 14 years in corporate. In November the same year, I moved into a new role as the Reporting and Allocations Analyst, where I develop and continually enhance reporting to support therapists in their KPIs and utilisation. I'm responsible for data integrity in the Children's Therapies systems to ensure accurate reporting and I also work closely with our Service Enquiry Team to support the management of the waitlist and allocation of families to therapists.
I love working at SDN because it gives me a work-life balance, which is great because I'm a mum to 2 boys, aged 4 and 11. We love to go snowboarding and dirt bike riding - just enjoying the outdoors and creating memories together. When I'm not with my boys, I'm at the gym working on my fitness and strength.
Laura, Family Resource Worker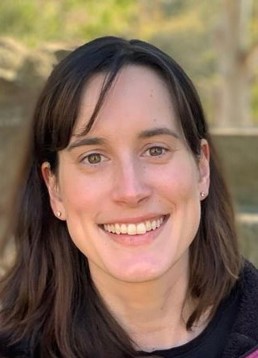 Bachelor of Arts (Early Childhood Studies & Sociology), Macquarie University and Master of Social Work (Qualifying), Australian Catholic University
I have over ten years' experience working with children and families in the early intervention, out of home care and disability sectors.
As part of my current role with SDN, I collaborate with our therapists in order for them to better support the children and families that they work with. This can mean sourcing information about other relevant services in the community, making referrals, writing advocacy letters and facilitating in-services. As a team our aim is to capacity build families as they are their children's main advocates.
My role is varied and can involve face to face and remote support to the therapists and families, networking with other organisations and navigating the everchanging world of the NDIS. I enjoy the variety that each day brings and seeing the growth of the children and families that we work with.
Mariam, Occupational Therapist
Bachelor of Health Science (sociology), Masters of Occupational Therapy, The University of Sydney.
I speak English, Dari/Farsi and German.  
I am passionate about empowering my families and clients to achieve their priorities using a strengths-based approach that centres my clients, their interest and values. I believe that all children have the right to a fun, meaningful and fulfilling childhood.  
Throughout my career, I have worked with a mixed caseload of clients (mostly children) with Down syndrome, Intellectual Disability, global developmental delay, and Autism, as well as families with complex and high needs.
I have experience in providing support with self-regulation, emotional regulation, behaviours, toileting, school readiness, among other things. 
I love to work collaboratively with families, carers, teachers and other health professionals in a range of settings (e.g. preschools, schools, and homes).
Melanie, Clinical Lead - Speech Pathologist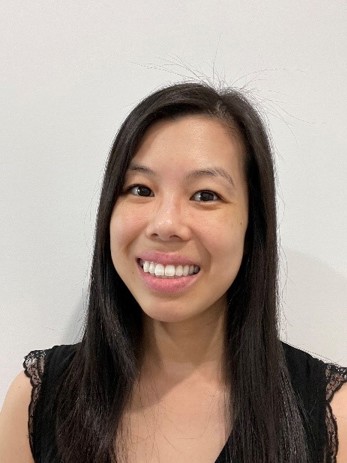 Bachelor of Health Sciences (Hearing & Speech) and Master of Speech Pathology, University of Sydney 
I am an experienced Speech Pathologist who has worked in a range of settings including preschools, schools, clinics and homes. I have worked with clients across the lifespan (early childhood through to adults), in more recent years focusing more on young children and adolescents.
I am passionate about my work and strive to deliver therapy creatively in order to engage children and to unlock their hidden potential. I enjoy supporting children's families and empowering them to support their child's communication development.
I am also dedicated to lifelong learning and professional development. This includes supporting Student Speech Pathologists and early career Speech Pathologists with their development of clinical skills. It is wonderful that my position at SDN as Speech Pathology Clinical Lead allows me to do all of the above.
Nicole, Family Engagement Officer
My role is to build relationships with and support families receiving services with SDN Children's Therapies and our team of therapists. This support also extends to the community and any other members of the support network around the child – this can include plan managers, support coordinators, case workers, local area coordinators and early childhood intervention providers. 
One of the main ways I support families is by helping them with any questions they have around their journey. This can be anything from service agreements,  invoicing, letting them know how much funds they have left in their NDIS plan, advising them on who to contact for reviews, and so much more.
Outside of work, you will find me supporting my children with their sporting aspirations. Also participating in Physie team competitions and individual championships. I also enjoy cake decorating. 
Roslyn, Speech Pathologist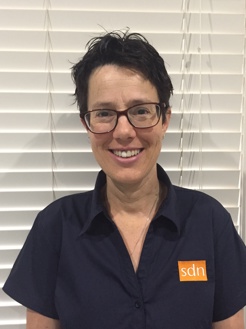 Bachelor of Applied science (Speech Pathology), The University of Sydney.
Working in the disability sector since 2005, I have extensive experience working with children and families in schools, preschools and homes. I am certified to provide Hanen programs to children and families (It Takes Two to Talk and More than Words). 
I am passionate about supporting families to develop their children's skills during daily routines and interactions.
I have experience using both high tech speech generating devices and low tech picture communication systems. These include PECS (Picture Exchange Communication System), PODD (Pragmatic Organisation Dynamic Display), LAMP (Language Acquisition through Motor Planning) and iPad communication apps.
I am trained and experienced in working together with families to develop positive sleep practices (SleepAbility) and in the SOS Approach to Feeding (for children with a limited range of foods in their diet).
Sezen, Key Worker - Early Childhood Teacher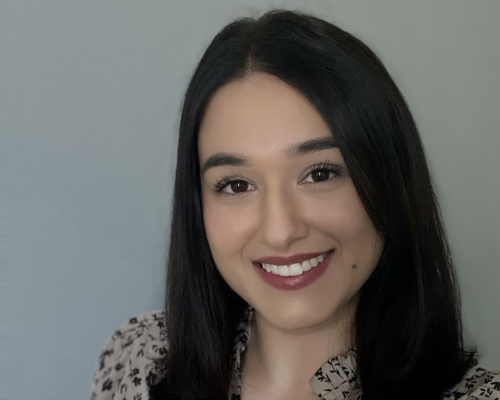 I am an accredited Early Childhood Teacher, with 12 years of experience in education and leadership.
Working with children with learning needs and diagnoses over the years has been highly rewarding, but has also highlighted the unique challenges faced by these children and their families. As a result, I became passionate about advocating for their rights and now work intentionally to break down barriers to inclusion.
I believe wholeheartedly in the role of the family, and I aim to empower families and children from all walks of life to build capacity and agency, and to engage with the world around them.
I am trained in the play-based approach and believe in making learning fun! I follow the motivations of the child and use these interests to introduce new challenges and learning opportunities.
I use play-based teaching to target goals in a range of areas, including: school readiness, school transition, social/emotional understanding and engagement, intentional play, play skills, self-care, emotional regulation and language/communication.
With SDN's trans-disciplinary approach, I am able to work alongside a range of therapists to provide individualised supports for children.
Sophia, Speech Pathologist
Bachelor of Speech Pathology, University of Sydney
Communication happens in all spheres of life – whether it is communicating to express or to request. I graduated from the University of Sydney with a Bachelor of Speech Pathology degree which has equipped me with the knowledge and skills to work with children across ages.   
I am passionate about empowering children to read and write. The ability to read and write infuses life with hope, imagination, and beauty. It helps us make sense of our world and gives language to what we are experiencing.  
When it comes to service delivery, I take it to be my responsibility to ensure that my practice is evidence-based and child-centred. The early intervention process is often dynamic and individualised. To ensure mutually enjoyable and meaningful interactions, it is important to capitalise on the child and family's strengths, and to include them in the journey.   
Outside of work, I love spending my time with family and friends, and going to the beach!
Stephanie, Speech Pathologist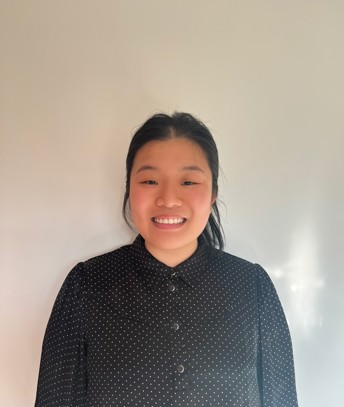 Bachelor of Applied Science (Speech Pathology), The University of Sydney. 
I am passionate about working with and supporting families to help children reach their communication potential. I love being and working as a part of a team that empowers and collaborates with children and their families and other professionals. 
My approach to therapy is to always make it client centred and fun to ensure that therapy is engaging! What I love to do is build on the child's strengths and capabilities whilst also supporting the families to ensure the best outcomes for their child's communication.  
I have had experience working with children with disability as well as with children across a range of practice areas (speech, language and fluency) through placement opportunities.  
Sophie, Occupational Therapist and Clinical Lead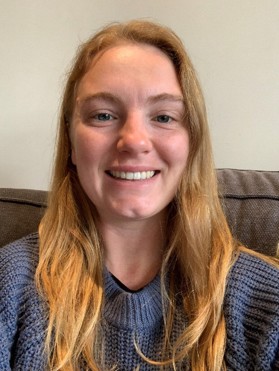 Bachelor of Applied Sciences (Occupational Therapy)
I have been working as an occupational therapist since 2017 and prior to that had experience working within schools providing learning support. I am passionate about working collaboratively with families to provide client-centered therapy interventions that focus on functional outcomes. Throughout my journey as an OT I have had the opportunity to work with client's with differing needs and diagnoses to help them build capacity and develop independence. I have experience working across environments, including the clinic, home and school.
I approach therapy with a goal focus; guided by frameworks of play-relationship based therapy, self-regulation, social skill development, school readiness and sensory processing. I love to work creatively to work with families to build a child's skills and capacity to engage in all areas of their daily life. I believe in partnership with all stakeholders surrounding a child and advocating for their needs.
As Clinical Lead providing education and building capacity of therapists to grow professionally and love sharing ideas and knowledge. I am committed to reflecting on current practices in service provision to always ensure we are providing needs and evidence-based practice in therapeutic interventions.
Sou, Quality and Compliance Manager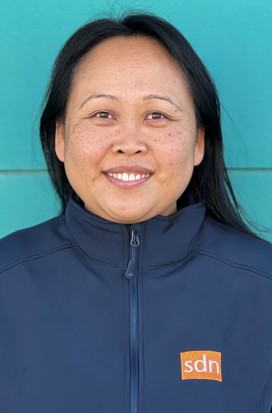 As the Quality and Compliance Manager, I am committed to developing, implementing, monitoring, and overseeing quality management and quality improvement processes to ensure the Children's Therapies team provides the best possible support for families so that every child learns, develops, and experiences wellbeing in an inclusive environment. 
I have been with SDN for 5 years, prior to this I worked in the FMCG industry for over 20 years. 
Outside of work, I love to travel because I enjoy discovering new cities, experiencing other cultures, marvelling at landmarks, and making memories with my family. 
Sunshine, Behaviour Support Practioner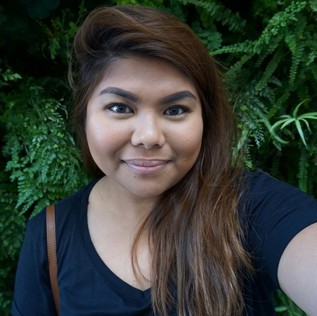 Bachelor of Arts majoring in Social and Cultural Analysis and Primary Education, and Master of Teaching (Primary)
Coming from a primary special education background, I have seen the many challenges and barriers that children with a disability and their families experience. I am passionate in the areas of emotion regulation, capacity building to improve social and play skills, as well as behaviour analysis. Every behaviour is a form of communication and my role as a behaviour therapist is to understand the motivations and events that drive those behaviours. Through positive collaboration, open, and flexible conversations, and a growth-mindset, I strongly believe that building a 'team around the child' with these values lead to the best outcomes for the child and their families.
I have experience supporting and teaching school-aged children on the autism spectrum and with additional needs in an educational setting. My behaviour support strategies focus on evidence-based and person-centered approach to increase the quality of life for all my clients.
Besides my passion in behaviour support and analysis, I personally enjoy singing, exploring new restaurants and cities, spending quality time with my family, reading and learning new things about topics I am interested in.
I look forward to learning and growing with SDN Children's Services!
Tricia, Early Childhood Teacher – Key Worker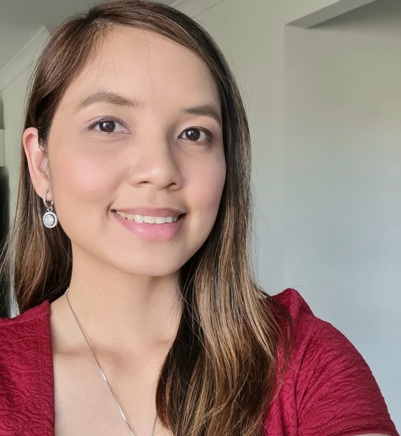 Bachelor of Science in Early Childhood Education & Master of Special Education (Macquarie University)
I am a qualified Early Childhood Teacher with experience working with children since 2008. Over the years, I have supported children with disabilities in early childhood settings by identifying inclusion barriers and implementing inclusion strategies in the mainstream classroom.
I am passionate about play-based inquiry learning and I am an advocate for play in the early years. I am excited to continue this passion when delivering early intervention supports for children with disabilities through fun and play-based therapy sessions. I believe this complements SDN's approach to therapy which is family-centered and strengths-based.
In my role as an ECT Key Worker, I work with families and children to achieve their goals around self-care, social skills, gross/fine motor skills, emotional regulation, communication skills and transition to school.
Valencia, Speech Pathologist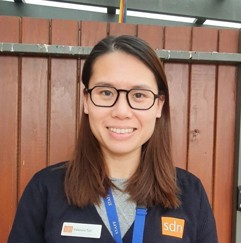 Coming with an early childhood education background, I have been working with children since 2012. I developed my passion for speech pathology when I had the privilege of teaching children with additional needs in a preschool setting. I then decided to further study to become a speech pathologist out of love supporting children's communicative needs.  
I am passionate about supporting children's communication development with evidence-based approaches and empowering them to build connections with others confidently as I always believe every individual has the right to communicate. I also enjoy getting to know and collaborating with the families as well as building their capacity to achieve optimal outcome for their child.  
I am excited about the opportunity of working at SDN where I can work closely with other professionals including OTs, psychologist and early childhood educators. This allows me to provide individualised therapy options for my clients from a holistic perspective.  
I look forward to working with you at SDN!
Victoria, Children's Therapies Administrator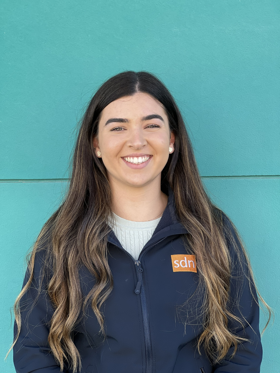 Completed Bachelor of Speech and Hearing Sciences, and also undertaking first year of Masters of Speech Pathology at Macquarie University.
I am looking forward to working as a speech pathologist in the future and am passionate about helping people and providing support with communication in all forms.
I work at SDN as a children's therapies administrator and really enjoy dealing with the 'behind the scenes' aspects of delivering therapy. At SDN I have been able to witness the positive impact therapy has on children and their families and wish to continue supporting and working alongside therapists to provide quality care.
Zoe, Occupational Therapist and Service Delivery Manager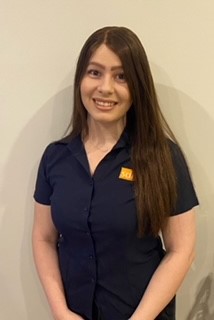 Bachelor of Science (Occupational Therapy), Curtin University and Graduate Certificate in Therapeutic Child Play, Deakin University.  
I am committed to fostering an environment that promotes positive wellbeing outcomes for children and their families. I use a play-based, holistic and strengths focused approach throughout therapy which involves coaching and empowering families and working collaboratively to achieve goals. I value the small wins in therapy and incorporate the interests of each child throughout sessions to create a space that is welcoming and engaging. 
I am passionate in the areas of emotional regulation, social skill development and supporting school-readiness. I have experience in providing therapy in the home, clinic, telehealth and at education setting.
As the Service Delivery Manager, I am dedicated to delivering effective operational management of SDN's Children's Therapies. This involves working in partnership with our team of therapists to drive positive outcomes for children receiving services.
I have worked in the disability sector since 2014 and have worked as a Regional Manager in a previous role managing a team of Occupational Therapists and Psychologists. I also have experience as an Occupational Therapist in aged care and disability employment services.