Discover resources to help nurture a child's heart, giving them confidence to explore and grow.
Vertical Painting - express creativity
Age group:  from standing confidently
Learning benefit/skill developed:
Allows children to express themselves creatively
Allows children to explore colours
Uses hand-eye co-ordination and gross motor skills through using the large muscles in the arms
What you'll need:
​Large paper (can also tape paper together)
Paint and paintbrushes (can make your own paint, see recipe in Family Hub)
Paint pots/empty jars (can also use washed tins, as long as no sharp edges)
Masking tape/blu tac (to attach the paper)
A relatively flat surface (a wall, a door, a window, a fence etc)
Instructions:
Tape or blu tac the paper to the wall at a height that will allow your child to reach the whole paper, pour the paint into the container and let your child paint!
Tips/advice:
You can also play music while painting or encourage your child to paint something they can see in the environment. This can be done indoors or outdoors, if indoors check your paint is washable.
Download or print activity here.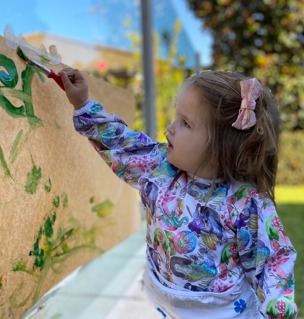 Feelings bingo – visualise emotions
Identify and understand different emotions through this simple and fun game of bingo.
Ages: generally 3 years and up
Learning benefit / skills developed:
Language skills: through playing, children identify and name emotions
Emotional & social: children identify emotions, how they are displayed and when they may be experienced.
Cognitive skills: children's cognitive skills are enhanced as they participate in group games; following rules, taking turns and (potentially) strategising.
What you'll need: 
Paper
Pens/texters/crayons
Scissors
20 x something you can use as tokens (5 and 10c coins work well)
Instructions:
Draw a grid on your page, dividing the page into 9 equal sized squares.  Draw a face in each square which represents a different emotion – you can leave the one in the middle blank if you choose to (as in the photo) and it becomes a wildcard which you can cover with a token at the beginning of each round.  While making the bingo cards talk to your child about what emotions may be used in the game; what different emotions/feelings do they know of? What does a person's face look like when they feel that way?  
On the second sheet of paper do the same as above but make sure the different emotions are in different squares (so the game cards aren't the same).
Cut the third piece of paper into 9 equal squares and draw on each square a different emotion face (matching the ones you have drawn on the game card) and place those in a pile face down.
To play, each player has a game card.  One of the players, or a third player, takes the top emotions card from the face down pile and turns it over.  If players have the same emotion shown on the card on their own game card then they place a token on that face on their card.  This process is repeated until one player has a line (horizontal, vertical or diagonal) of tokens.  When this occurs that player says "bingo!" and has won the round.
Additional recommendations:
Identifying emotions and learning about how to work through them effectively is essential to developing emotional intelligence and resilience.  It is beneficial to take your time through the game and discuss the emotions as they come up with prompting questions such as "what makes you feel this way?" "what can we do to help ourselves or our friends when sad/angry/afraid etc…"
Once you have played a few rounds and all parties understand the game, instead of turning over the emotions cards from the pile you can have one player act out the different emotions instead.
Download or print activity here.
Matching game – enhancing a sense of belonging
This fun activity asks children to match photos of significant people in their lives, to enhance their sense of belonging and develop memory skills.
Ages: Generally children 2 and up
Learning benefit / skills developed:
Language development: through playing this game, children identify and name the friends and family appearing in the photos.
Enhancing children's sense of identity and belonging: children develop sense of self and belonging with family and friends through understanding that these set of people in the photos are connected and special to them.
Children develop strategies to support their memory skills through playing the game.
What you'll need: 
Printed photographs of family and friends in duplicate
Instructions:
Print 5-10 photos of people significant in your child's life such as family and friends. Duplicate this set so that you have 2 copies of each photo.
Place each photo face down in front of your child.
Take turns to turn over two photos at a time.  If the photos match then the person who turned them over gets to keep them.  If they don't match then they need to turn them face down again and it is the other player's turn.
Play until all pairs have been identified.
Download or print activity here.
Drawing self-portraits by looking in the mirrors. For children to develop an understanding of their own emotions and feelings in a visible manner.
Age group: Generally for children 3 and up
​Learning benefit/skills developed:
Opportunities of self-awareness
Develop verbal and non-verbal abilities to express emotions
Making inner feelings visible
Develop expressive language and dialogue
Fosters fine motor skills
Assist with the emergence of literacy and writing skills
What you'll need:
Lead and colour pencils
Papers on clipboard
Mirrors
Instructions:
Set up two sides of the table with an adjustable mirror, paper and pencils
Join child in for drawing self-reflections
Role model the child that you are drawing yourself by looking in the mirror; however, avoid to guide a child's decisions about their work
Allow the child to draw his or herself autonomously
After the drawing, engage in a discussion that how the child is feeling and doing in the picture
Engage in active listening to promote expressive language
Encourage the child to reflect on the reasons behind these feelings and to recommend possible solutions to avoid them.
Tips / Follow up:
At emotional times, encourage the child to draw a picture of him/herself to let other people know how they are feeling. By observing him/herself in the mirror, the child will be able to understand his/her own emotions in a visible manner. During the process of drawing, the child will get the opportunity to reflect on these feelings. By explaining the drawing, the child will develop skills to verbally articulate strong feelings.
Download or print activity here.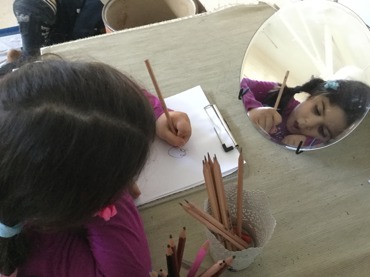 Storytime - Enjoy a reading at home
Reading helps children to recognise sounds, words and language, whilst developing their emerging literacy skills. Children will also learn to value books and stories which will spark their imagination, creativity and stimulate curiosity.
Learning benefits of reading to children
Promotes positive relationships and increases the connection and bond between child and adult
Phonetical awareness promoting Early Literacy and pre-writing skills
An enjoyable way to introduce new concepts including colour, shapes, letter, numbers and animals. 
Help's your child's emerging brain, social and communication skills to develop
Help's your child learn the difference between 'real' and 'make-believe'
Enjoy a book reading at home
Amanda from SDN Hurstville shares a reading of 'I do it' by Andrew Daddo & Jonathan Bentley
Amanda shares a reading of 'It's the bear' by Jez Alborough
Amanda shares a reading of 'Things I love about my family' by Trace Moroney
Suggested stories by SDN Educators
The Gruffalo by Julia Donaldson
Brown Bread and Honey by Pamela Allen
The Very Hungry Caterpillar by Eric Carle
The Tiger That Came To Tea by Judith Kerr
Spots Walk by Eric Hill
The Wonky Donkey by Craig Smith                                       
Mrs Honeys Hat by Pam Adams
Postable Hugs - share the love
During this time of isolation, one of the things we all miss most is being around our loved ones, be it family or friends. While we can't do much to fix that, we can work on something fun to share our love with those that may by needing it the most.

Age group: 2 and up
Learning benefit/skills developed:
Emotional intelligence: developing an understanding of how others may be feeling and, in turn, demonstrating empathy.
Creativity: expressing themselves creatively exploring colours, lines, shapes and self-expression whilst building one's own identity.
Mathematical understanding of shape and size by tracing their bodies.
Early Literacy Development: understanding symbols, words and drawings can convey messages.
Instructions:
Find paper big enough to trace your child with their arms out for a hug.
Trace your child.
Colour in.
Cut out the hug.
Post it to someone who needs a hug
Download or print activity here.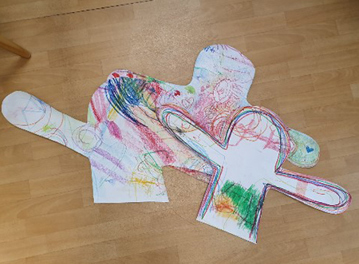 Chalk drawing - spreading positivity
Creating positive messages with chalk enables children to practice kindness through words and pictures, especially as we navigate through the COVID-19 pandemic together. This activity may also help with conversations and questions around the current situation.
Learning benefit / skills developed:
Develops empathy and understanding for others.
Encourages the development of positive thinking and mindset.
Encourages creativity and visual analysis.
Develops Fine Motor Skills through hand, wrist and finger movement.
What you'll need:
A variety of chalk (in different colours)
Some dedicated space outside on a wall or ground to use as a canvas
A damp cloth to make adjustments to your colourful creations
Instructions:
You may want some messages to start your chalk canvas. Some options could be
Stay happy
Stay safe
Stay strong
We are all in this together
Keep smiling
You may want some symbols or pictures to start your chalk canvas. Some options could be
Love hearts
Rainbows
Flowers
Sunshine
Encourage your children to take the lead on what they want to draw and write with their chalk designs. This activity may also inspire further questions and positive discussion about kindness. Take some photos of your creations to share with family and friends.
A soft cloth and warm water are great to clear away chalk designs afterwards.
Download or print activity here.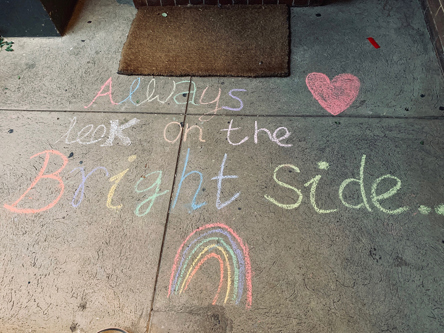 Writing and drawing - expressing care for others
There are often thoughts and feelings that cannot be expressed physically but can be verbalised through words or pictures. Especially during this time of self-isolation, children may be missing their friends, feeling confused about why they cannot go to their local park, and having a whirlwind of other thoughts and emotions.
This activity of writing letters or drawing pictures based on specific themes or ideas can help children express themselves while tapping into their creativity.
Age group: Generally children aged 3 and up
Learning benefit / skills developed:
Teaches children how to express kindness and compassion, as they are thinking about the other person when writing a letter or drawing a picture for them
Develops early literacy skills and fine motor control
Develops concentration and focus
Encourages creativity, expressive language, and boosts children's self-esteem as they create something on their own
Instructions:
Give your child paper and colourful pencils or crayons
Discuss with them which theme they want to focus on. Examples:

Write a letter to your best friend
Write a letter to your teacher
Write/draw what you love most about your home
Why should you be kind?
Describe your favourite animal

If they are comfortable to talk about it, ask your child to speak to you about what they have created when they finish.
Mail the letter/take a photo of their letter or picture to send to the recipient
Display their artwork at home or create a folder dedicated to the child of their visual pieces
If the recipient responds, there is also the added excitement of your child receiving a letter in the mail.
Download or print activity here.
Auslan (Key Word Sign) Learning with Amanda
Auslan (Australian Sign Language) plays an important role as the language of the Deaf community in Australia.
Key Word Sign uses the signs from Auslan to communicate, along with spoken English, creating unique learning for children.
Join Amanda from SDN Hurstville as she takes us through some Auslan (Key Word Sign) learnings, activities and songs...
Learning numbers 1-10
Mealtimes signs
Sing along - I am Australian
Sing along - 'ABC' song and 'The Rainbow' song
Family signs - Aunty, Uncle, Niece, Nephew, Cousin, Grandmother & Grandfather.
Hearing hunt - tune into nature
This is a great activity to encourage children to 'tune in' and expand awareness of their surroundings and deepen their appreciation for the natural environment as well as practising gratitude. 
Ages: Children 1 and up
Learning benefit / skills developed: 
Science: l

earning 

about our body and our senses.

 

Health & wellbeing: m

oving one's body and navigating the outdoor environment is excel

lent for health and wellbeing as it

often 

engages

 large muscle groups and suppor

ts

 gross motor development.

 

Language: e

ncourages children to actively use descriptive language.

 

Environment: s

upporting an early connection with

 Mother Nature and 

appreciation of the natural environment fosters a sense of responsibility and understanding of sustainability.

 
Instructions: 
Go for a walk outside 

with your child 

and pause every so often to tune into your surroundings. 

 

Ask your child 

w

hat can you hear?

 Birds tweeting? Dogs barking? Footsteps? The wind in the trees? 

 

Make a note of everything you hear (in pictures, words or through conversation depending on what is age-appropriate for who is completing the activity).
Inclusive opportunity:
You may want to m

odify your language and observations or make it more about what you 'see' rather than hear to ignite curiosity in your child (your learning partner).
Download or print activity here.
SDN is committed to the safety of children and families and encourages the safe undertaking of activities on the hub. For more information read our terms and conditions. For more on child safety at home visit Raising Children network.
Sign up to our monthly Family Activity hub email to receive the latest activities.
related articles
You may be interested in
See more
Explore our activity hub