Get busy, making your own wonderful creations from child friendly cooking, goop experiments and creative art projects for every age.
Enjoy some art and fun by creating wrapping paper, which children can also use to help wrap presents for family and friends.
Ages: generally 3 years and up
Learning benefit / skills developed:
Fosters children's creativity and artistic desires
Encourages children to explore mathematical concepts such as colour mixing and scientific concepts such as inquiry and hypothesising about what will happen.
What you'll need: 
Shaving foam
White paper
Food colouring
Jars/Paint pots
Droppers
1 large tray
A ruler
A paintbrush or stick
Instructions:
1. Spread shaving foam on a flat tray 1cm thick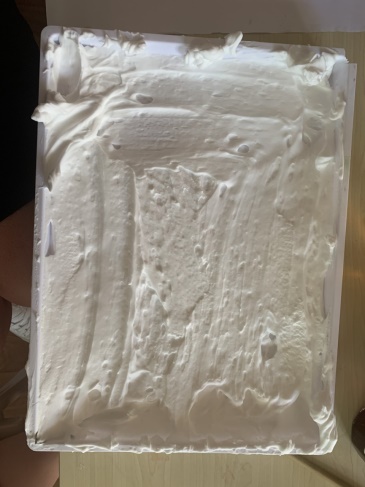 2. Using droppers, squirt the water colours onto the shaving foam.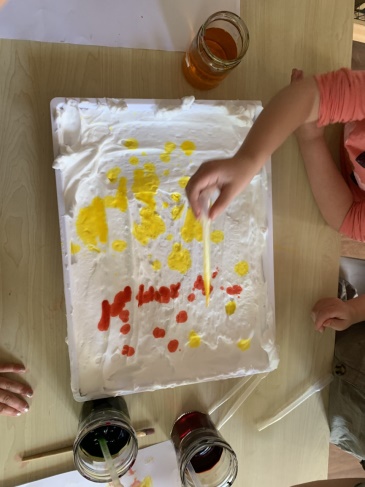 3. Using the pointy end of the paint brush or a stick, draw patterns or swirls in the coloured shaving foam.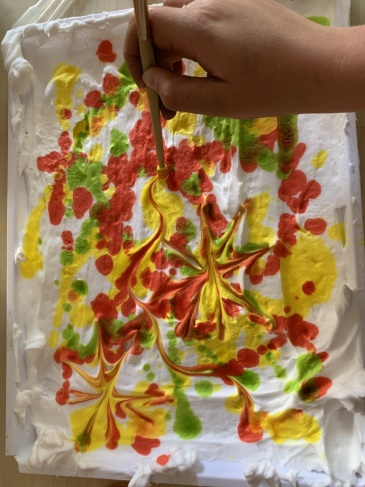 4. Gently place paper on top of the foam and print the patterns onto it.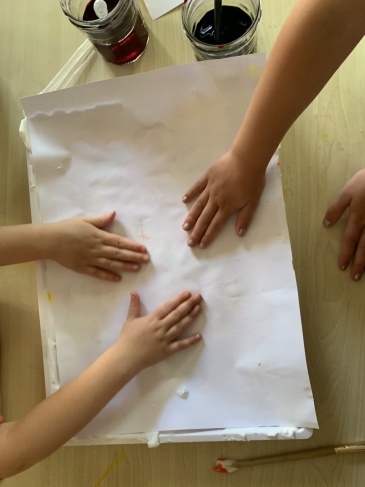 5. Peel the paper back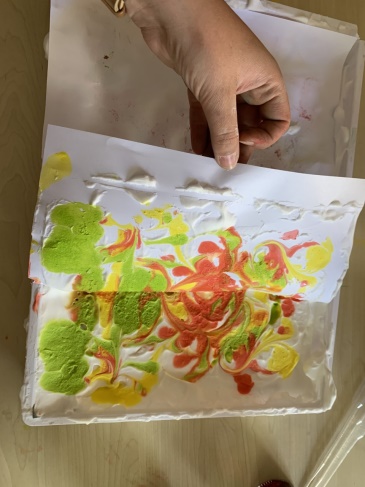 6. Lay the paper down on a flat surface and use a ruler to scrape all excess shaving foam off the paper and you are left with beautiful wrapping paper!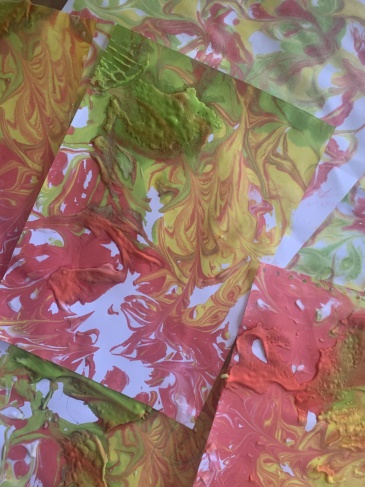 Download or print activity here.
A great way to incorporate safe and effective chemical reactions and liquids as well as the children's interest in volcanoes.
Ages Children aged 3 and up 
Learning benefit/skills developed
STEM learning (Science, Technology, Engineering, Mathematics) teaching. 
Tips and advice
Any oil you have on hand is fine to use as it will always sit on top of the water.
Try and have the jar 50/50 with water and oil. We used edicol to colour our water but food colouring is fine too.
Try half water half oil and a couple of tablespoons of bi-carb. And as much vinegar as your heart desires!
See below instructional video from SDN Lady McKell on how to make your own
Sensory slime – imaginative play
Simple, quick and easy to make at home with ingredients that most households will have, for a great indoor activity on those rainy days stuck inside.
Ages: Generally children 1 and up
This is a sensory activity, which promotes focus and can help support a feeling of calmness. It promotes motor and cognitive development and includes science and mathematics as the child progresses in age.
Sensory playdough – incorporate your garden
Enjoy this no cook play dough recipe that incorporates natural sensory materials from the garden or any home-grown herbs, for a nature inspired activity.
Ages: Generally children 2 and up
Sensory playdough is an activity which promotes focus and can help support calm. It promotes motor and cognitive development and includes science and mathematics.
Watch this instructional video to create this sensory playdough recipe.
Cubbyhouse - easy to make
Sometimes, children need their own special space to rest and play.
Ages: generally 2 years and up
Learning benefit/skills developed:
Emotional & social: children are able to rest and play in their own space.
Cognitive skills: children are able to use the cubby space to be whatever they imagine it to be,: a house, spaceship, a cave etc. children are able to dress the space up to suit their play needs. This also provides opportunities to problem solve and use their creativity
What you'll need: 
table
sheet
battery lamp or torch
pillows
Instructions:
With your child, throw a large sheet over a table. Add cushions and rugs to make it comfortable. Provide the children with a light source for reading and play. If you have glow in the dark toys or stick-on stars, use them to add decorate the underside of the table.
Provide the children with space to the resources to make the cubby their own space. With everything always supervise and check on your child throughout their play.
When finished, encourage your child to help pack away all the materials and explain that we can make it again another time.
Additional recommendations:
This can also be done outside with an outdoor table and sheet or extended on a tree branch or cloth line.
Download or print activity here.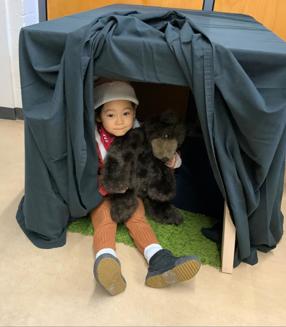 Sensory bins - explore the senses
An awesome hands-on tool for children to learn about their world and their senses. For children who love to explore different textures, sensory bins may calm, focus and engage your child.
Ages: Children 1 and up.
Learning Benefit / skills developed:
Practical life skills - sensory bins let a child learn valuable play skills as well as explore, discover and create play using practical life skills through activities such as dumping, filling and scooping.
Play skills (emotional development) - great for both social play and independent play, sensory bins allow children to play cooperatively or side by side.
Language development - sensory bins increase language development by children experiencing with their hands all there is to see and do, which leads to great conversations and opportunities to model language.
Understanding the body's senses - many sensory play bins include a few of the senses! Touch, sight, sounds, taste and smell are our body's senses. Children can experience several at a time with a sensory bin.
Fruit Skewers - a fun healthy snack
Looking for a simple, healthy snack to create at home? Look no further as resident cook at SDN Milperra, Jaman shows us how to prepare Fruits skewers at home.
Learning benefit/skills developed:
Children learn to try new foods
Develops a child's knowledge and awareness of a healthy lifestyle
Supports healthy eating habits
Supports building mathematical concepts for a child, such as big/small pieces and numerical concepts as they count how many fruits can fit on each skewer
What you'll need:
Skewers
Assorted Fruits
Knife (Plastic Knives will cut well through softer fruits with children)
Chopping Board
Don't forget to wash your hands
Rainbow chickpea foam – sensory play
Encourage your child to explore different colours and textures, as well as early mathematical concepts through this experience.
Ages: Generally children 1 and up
Learning benefit / skills developed:
Helps visual awareness through colour
Assists in understanding textures
Promotes language development (using words like full, empty, soft, in, pour) 
Introduces early mathematical concepts like spatial awareness and capacity
What you'll need?
​2 x tins of chickpeas
Food colouring
A plastic tub
Electric mixer (can be done with a whisk but will take much longer)
Assorted cups, bowls, small containers and spoons
Art smock/old clothes (in case colour stains)
Method:
Drain liquid from chickpeas into a mixing bowl
Mix on high for 5-10 minutes or until liquid foams up and turns white (should resemble shaving foam).
Separate into smaller portions and mix through food colouring.
Pour into tub and its play time!
N.B the foam will melt if left in the sun
Download or print activity here.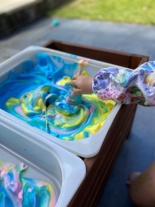 Make a 'mind jar' – explore thoughts and feelings 
A simple and fun activity to create a 'mind jar,' aimed for children to understand and express their thoughts and feelings. 
 
Ages: Children 2 and up 
 
Learning benefit / skills developed: 
Science:

 

why 

does the glitter swirl around and then fall? (

extension

 for older children).

 

Health & wellbeing: t

his activity supports children to tune into their thoughts and feelings as well as empowering them with strategies to support their own wellbeing.

 

Fosters children's curiosity 

 
 What you'll need: 
1 empt

y jar with a lid and no labels

 

Depending on the age and ability of the child you may want to use a plastic container instead of a glass jar (such as a juice bottle).

Hot water

 

2 tablespoons of glitter glue

 
Instructions: 
Fill the jar almost all the way with hot water (adult supervision required).

 

Add the glitter glue.

 

Tightly secure the jar lid.

 

Shak

e and then watch what happens! 

 
The bits of glitter will swirl around in the jar. Imagine these are like all the thoughts and feelings in your brain and body when you are excited or overwhelmed.
Notice how when you keep the jar still the glitter starts to settle down; this is the same for your thoughts and feelings if you take some deep breaths and keep your body still. 
You can shake the jar up and watch the glitter settle to help you calm your thoughts and feelings anytime you feel you need it.
Download or print activity here.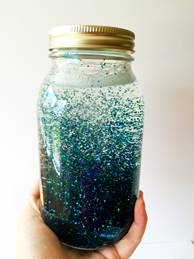 Stir Fry - packed with goodness
Quick, easy, healthy and delicious.
Adequate nutrition is crucial for all young children and those affected by Autism Spectrum Disorder (ASD) are five times more likely to have difficulties during mealtimes than those unaffected by the disorder.
Playdough - make your own fun
A recipe for uncooked playdough to create with your child
Ages: Children aged 3 and up (suitable for children affected by Autism Spectrum Disorder (ASD)
Learning benefit / skills developed
Develops hand and eye concentration and their coordination
Teaches children how to follow a process and guided structure
Enhances children's creativity and imagination as playdough can be used in so many ways!
Develops children's fine motor skills. By squishing, rolling and flattening the playdough, it helps strengthen children's hands and fingers
What you'll need: 
1 packet of rice flour
5 teaspoons of oil
1 packet of corn starch
5 cup of salt
3 tablespoons of cream of tartar
3 cups of hot water
Food colouring as the desired method
Method:
Mix all the dry ingredients together.
Add the vegetable oil then add the food colouring to the first cup of water and add into the bowl, mixing it in. Add the rest of the water, a little at a time to get the right consistency. You may not need all the water.
Store the playdough in a large plastic snap-lock bag or airtight container.
This recipe can be cooked. Just place all ingredients into a pot and add all the water, cook over a low heat for 3 to 5 minutes until the dough comes away from the sides of the pot. Turn out onto a lightly floured board or bench and knead until smooth.
Download or print activity here.
DIY Activity cube - explore different sights
Age group: from sitting independently
Learning benefit/skill developed:
Hand-eye coordination, sensory exploration of different textures and sights, fine motor skills
What you'll need:
​A large box (nappy boxes work really well!)
Large paper (optional)
Assorted materials, you could try pom poms, paper, fabric, cupcake cases, fairy lights, bubble wrap, ice block sticks, Pvc piping (available from hardware stores), or anything else your child is interested in!
Strong glue (can use a hot glue gun, super glue etc)  
Instructions:
First cover your box with paper (this step is optional, it helps to make the materials stand out more with a plain background)  
Then cut out any holes if using objects like PVC pipes, and stick pipes in.
Then attach materials however you like! Check that they are secure and the glue is dry before giving to your child
Tips/advice:
This activity needs to be supervised, and before each use always check that the pieces you have attached are still secure so they do not fall off and become a choking hazard.
Download or print activity here.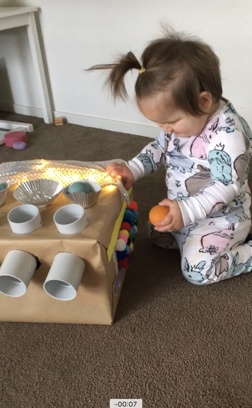 SDN is committed to the safety of children and families and encourages the safe undertaking of activities on the hub. For more information read our terms and conditions. For more on child safety at home visit Raising Children network.
Sign up to our monthly Family Activity hub email to receive the latest activities.