From building to art and beyond, there's always something new to inspire growing minds.
Ice cube painting — summer sensory fun
Beat the summer humidity with this cooling and colorful sensory, ice cube painting activity, developed by our very own SDN Children's Therapies team.
Ages: 1 year and above
Learning benefit/ skills development: 
Promotes development of functional grasp and opening up of web space on the hand

Preparing and practicing pre-writing shapes and letter skills

Builds up sensory experience and understanding of temperature and colours

What you'll need: 
Ice cube tray and water for ice cubes

Food colouring (try a few different colours)

Parchment/baking paper (find at a grocery or stationary store)

Waterproof mat or table

Bowls and/or tubs

Chopped fruits or vegetables (optional)
Instructions: 
The night before or at least a couple hours before, create your ice cubes by adding water and a few drops of food colouring to your ice cube tray. Mix food colouring to create some colours. Add to freezer and allow to set.
Take out ice cubes from tray and place into bowls or tubs to keep separate, then provide the ice cubes and parchment paper to your child on top of waterproof mat or table, or anywhere you don't mind getting messy and can easily clean.
Encourage your child to draw different shapes and patterns on the paper, using the ice as it melts and moves!
Tips:
If you have some left over fruit or veggies, chop them up and add in to the ice cubes for some cheeky exposure to different foods!
Download or print activity here.
Pumpkin and seeds sensory bag - touch and feel
A pantry staple sensory experience that allows your child to build fine motor skills and develop their spatial awareness. This is also a great way to recycle and reuse pumpkin in a fun learning activity without the mess!
Ages: 0 – 2 years old 
Learning benefit/ skills development: 
Promotes children's curiosity and provides a sensory exploration experience

 

Assists with developing their

h

and-eye coordination, fine motor control and spatial awareness skills

Builds up their vocabulary for describing how things feel when touched

 
What you'll need: 
Pumpkin with seeds

 

Zip lock bag

 
Instructions: 
Cut up pumpkin into a few small pieces, then steam with the seeds intact.

After it has cooled down, put some in a zip lock bag (avoiding over-packing).

Children are encouraged to squash or squeeze the pumpkin.

After the pumpkin is completely mashed, children are encouraged to use their fingers to press or chase the seeds. 

 
Tips: 
For an alternative sensory experience, add flour to the steamed pumpkin and seeds.

 

It is highly encouraged to reuse leftover pumpkin you might have, then after you're done with activity, pop any remaining pumpkin into the compost bin.
Download or print activity

 

here.
Create a Diya (lamp) – a cultural representation
This activity is for children to get an understanding of cultures and their respective festivals.
Diwali or Deepavali, known as the festival of lights, is an Indian cultural festival where lighting diyas (lamps) is a big part of the celebration. Through this activity, children can learn how to draw and colour their own diya!
Ages: generally 1 year and up
Learning benefits / skills developed:
Provides learning about different cultures and their significant festivals.
Gives children an opportunity to explore creativity with free hand drawing and/or colouring.
Develops hand and eye coordination as well as concentration skills
What you'll need:
Paper
Pencils, crayons or textas – preferably brown and yellow
A picture of a diya for children to use as a reference
Instructions:
Show your child some images of a diya and explain the significance of this during the Diwali celebration. Information can be found here.
Encourage your child to draw the shape of a diya.
Now it's time to colour! Colour in the frame with yellow or orange colours, with the bottom of the diya (the bowl) in brown. The bottom bowl of an actual diya is made out of clay.
Please note:
The colours mentioned above are a true representation of a diya. However children can explore their imagination to use different colours if they prefer.
Download or print activity

 

here.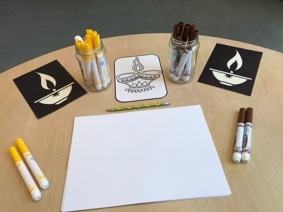 Magic milk experiment - science learning
Magic milk experiment – science learning
This simple, easy to set up science experiment is sure to get some smiles.
Ages: Children 1 year and up (under adult guidance and supervision)
Learning benefit/skills developed:
Science foundation skills and understanding
Recognition of cause and effect
Observation skills
Problem-solving ability
What you'll need:
Wide plate or bowl
One cup milk (full cream is good)
Food colouring 
Dishwashing liquid (small amount)
Cotton Swabs
Instructions:
Pour milk into the bottom of the bowl or pie plate. (just enough to cover the bottom and then some).
Drop different colours of food colouring into the milk, spacing the food colouring drops so that the drops don't touch.
Pour about a quarter cup of dishwashing liquid into a bowl.
Dip the cotton swab into the dishwashing liquid.
Touch the milk anywhere with the swab (only touch the milk with the swab, not the food colouring). You can keep touching the milk in all different spots.
Watch the food colouring react.
Why does this happen?
The Dishwashing liquid is a degreaser. So the molecules are reacting to the fat cells in the milk. This causes motion which creates the swirls of the food colouring, making the different colours as they mix.
Tips:
Engage in questions with children
What did you notice?
What happened when you put the cotton swab in the milk?
Why do you think that happened?
Download or print activity

 

here.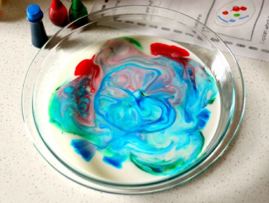 Nature Play - Video series
Join Megan, Educator and Art teacher at SDN Woolloomooloo who takes us through three activities that start with the exploration and collection of natural materials from the park or garden and will help inspire children's curiosity about their natural environment.
Ages: Children 2 years +
Information about What you need, Skills developed for children and additional tips are also shared in the activity videos below.
Activity One - Nature Threading 
Activity Two - Nature Painting
Activity Three - Nature Collage 
Leaf collection - nature collage
This activity involves the collection of fallen leaves and gives children a chance to connect with the environment around them and examine and explore different elements in nature.
Age group: Generally 1 year and up  
Learning benefit/skills developed:
Builds children's sensory exploration skills as they touch and create
Extends children's creative skills and ability
Builds connection to the environment and understanding of changing seasons
Develops fine motor skills as children manipulate the glue and leaves and stick them onto paper.
What you'll need:
Basket of bag (to hold the leaves)
Leaves of all shapes and sizes
Glue or glue sticks (water-based or non-toxic)
Paper or cardboard - to present the collage
Instructions:
Collect the leaves with your child from the backyard, garden or local park.
Set up the table with the leaves, glue and paper/cardboard.
Encourage your child to add glue first and then stick the leaves onto the paper.
Tips:
Talk to your child about the colours and pattern of the leaves and what they feel like.
Encourage your child to explore and collect a variety of leaves and different textures.
Option to explore and collect similar natural elements such as twigs, bark and small branches and talk about them.
Download or print activity here.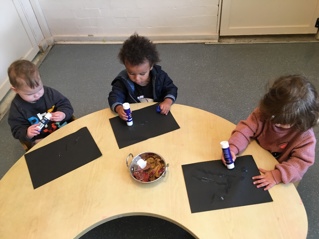 Build a box car - beep beep
Building this homemade box car encourages children to reuse household objects, and allows them to use their imagination.
Age group: 18 months and up
(older children may be able to make the car themselves, younger children may need help and others may need you to make it for them to drive).
Learning benefit/skill developed:
Encourages fine motor and gross motor skills through cutting and gluing and pushing the car around.
What you'll need:
​A box (any size will do, depending on how big you'd like your car to be  
Cardboard/coloured paper
Glue
Cupcake cases
Toys to 'drive' the car (or depending on the size of your box, your child may like to sit in and drive themselves)
Instructions:
Cut a hole in the top of the box
Cover the box in cardboard or coloured paper (cut the paper to size)
Glue cupcake cases as wheels, two on each side. Attach a 5th cupcake case as the steering wheel
Add some toys and you're ready to drive!
Tips/advice:
You can support your child's language development by talking to them about what their car is doing, i.e you may role model saying 'beep beep', or ask where the car is driving?
Download or print activity here.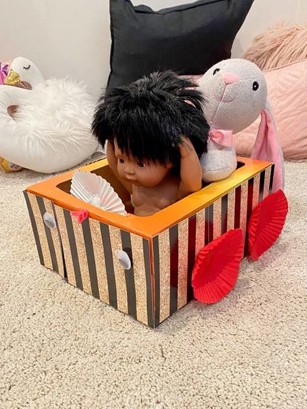 Sensory trays - exploring our senses
Create an open-ended sensory experience for your child to explore their sense of touch, taste, sight, sound and smell.
Age group: generally 1 year and up
Learning benefit/skills developed
Develops children's sense of wonder by encouraging their sensory exploration of touch, taste, sight, sound and smell.
Assists in children's understanding of different colours, textures and sounds
Encourages messy play to promote children's creative and adaptive play
Prompts exploration of senses
Explores food in a non-pressured fun way
What you'll need: 
Metal aluminium trays ( bowls can be used as an alternative)
Shredded coconut
Coloured water
Cooked pasta
Rice
Herbs and edible leaves
Towels
Instructions:
Place one towel on top of the table and one towel underneath the table (this will assist with the clean-up at the end)
Place five trays on the table
Fill each tray with your designated sensory item (be sure to place the dry sensory next to a wet sensory tray, this allows for a greater texture difference when exploring each tray one by one).
Extension of learning:
Question your child on the taste, "Does that taste yummy or yucky?"
Question your child on the feel, " Is that soft, hard, crunchy, cold, warm or sticky"
Special Consideration:
Some children can be reluctant to touch or taste different textures or colours, this often is associated with their sensory preferences.
We all have sensory preferences but if a child has sensory processing challenges, this can result in the textures or tastes being incredibly uncomfortable for children to interact with. By giving children choices between wet/soft and dry/crunchy, we are being more supportive of these children.
When introducing a child to a less preferred texture it may be useful to start with using tools such as spoons or long paintbrushes, or the first touch could be the tip of the finger. If introducing new food textures to taste, smell is a great starting point. Using cutlery with these foods and even giving the new food a kiss to start getting it closer to the mouth can all help towards exploring new taste.
Download or print activity here.
Ball box - find the right shape
This activity supports children understand about object permanence, problem-solving and spatial awareness, through a game of putting a ball into a cardboard box.
Ages: generally 1 year and up
Learning benefit/skills developed:
Encourages children to develop hand and eye coordination as they put the ball through the cutout holes in the box 
Helps children understand shapes and sizes
Develops children's problem-solving skills and spatial awareness
What you'll need: 
A cardboard box
Small balls of any material (roughly 5cm diameter so they are small enough for your child to pick up with one hand and large enough to not pose a choking risk)
Have balls of different sizes available to add an extra challenge
Scissors to cut the holes, according to various shapes and sizes of balls
Instructions:
Cut 2-4 holes in the box using scissors
Leave the box closed but not sealed (it should open as the child tips it and the balls should come out)
Give the balls to your child and watch as your child puts the balls in. Give them space to see if they can figure out how to get them in and out.
Download or print activity here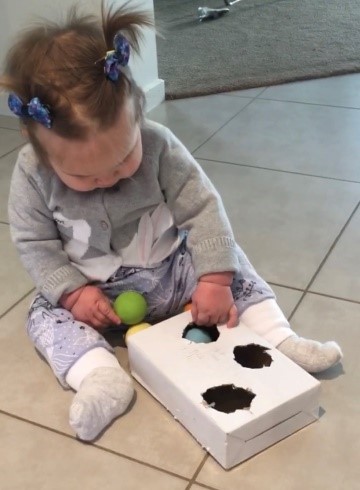 Special Kitchen cupboard - introducing kitchen experiences
This is a simple activity to do at home. The kitchen cupboard idea is a great way to introduce children to the kitchen and cooking experiences. Giving your child access to a safe low kitchen cupboard with items they can handle and access safely, provides an opportunity for children to explore containers and lids, measuring cups and spoons, and other safe to use cooking utensils. 
Ages: Generally children 1-3
Learning benefit/skills developed:
Fine motor skills, using the small muscles in the hand as well as hand-eye coordination in manipulating and stacking containers.
Language development, as you discuss the activity you are doing.
Family benefit:
This activity provides children with a space in the kitchen to learn and copy what you are doing.
Being close to you also provides opportunities for language development as you discuss the activity you are doing as well.
This activity also provides an opportunity for parents to do the things they need to while also engaging and supervising their children.
What you'll need?
Plastic or tin containers with matching lids
Wooden Spoons
Measuring cups and spoons (ones that stack inside one another are best)
Instructions:
Select a kitchen cupboard not near high traffic areas of your kitchen or too close to the oven and cooktop. Clean it out and add materials.
Allow children to access this cupboard and remind them that this is their special cupboard.
Play with your children on the floor, making sure that it is not in an area where people need to access the fridge.
Encourage children to stack the containers and measuring cups, use a wooden spoon to experiment with the different sounds of the containers. Find and match lids to the containers.
Follow up or modifications
This idea would also work within a home office. Using the same materials and add notebooks and coloured pencils.
Download or print activity here.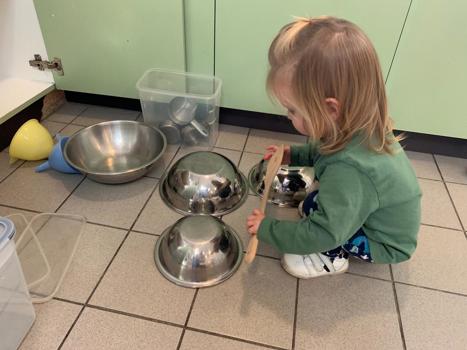 Sensory path - exploring sights, textures and sounds
Create a path of different sights, textures and sounds for your child to wonder and explore
Age group: generally children 6 months and up (suitable for crawlers and walkers)
Learning benefit/skills developed:
Encourages physical movement and develops children's sense of wonder by encouraging their sensory exploration of sight, touch and sound
Develops balance for children who are crawling and in early stages of walking
Assists in children's understanding of different colours, textures and sounds
What you'll need: 
Laminating sheets or thick sandwich bags
Masking tape
Recycled or craft materials such as ribbon, bubble wrap, paint, felt, pom poms, leaves, dried flowers or anything else you find suitable
Instructions:
Fill each laminating pouch or sandwich bag with desired materials (if using laminating pouches, seal the edges with an iron or hair straightener so they don't leak)
Use masking tape to tape pouches onto the floor to create a path
Extension for older children: try creating a different number, colour, letter, or shape from the materials in each pouch and encourage them to find the letter/shape/colour/number.
Try encouraging your child to do a different movement with every section of the path they stand on (for example, jumping on the bubble wrap or clapping when standing on the felt)
Download or print activity here.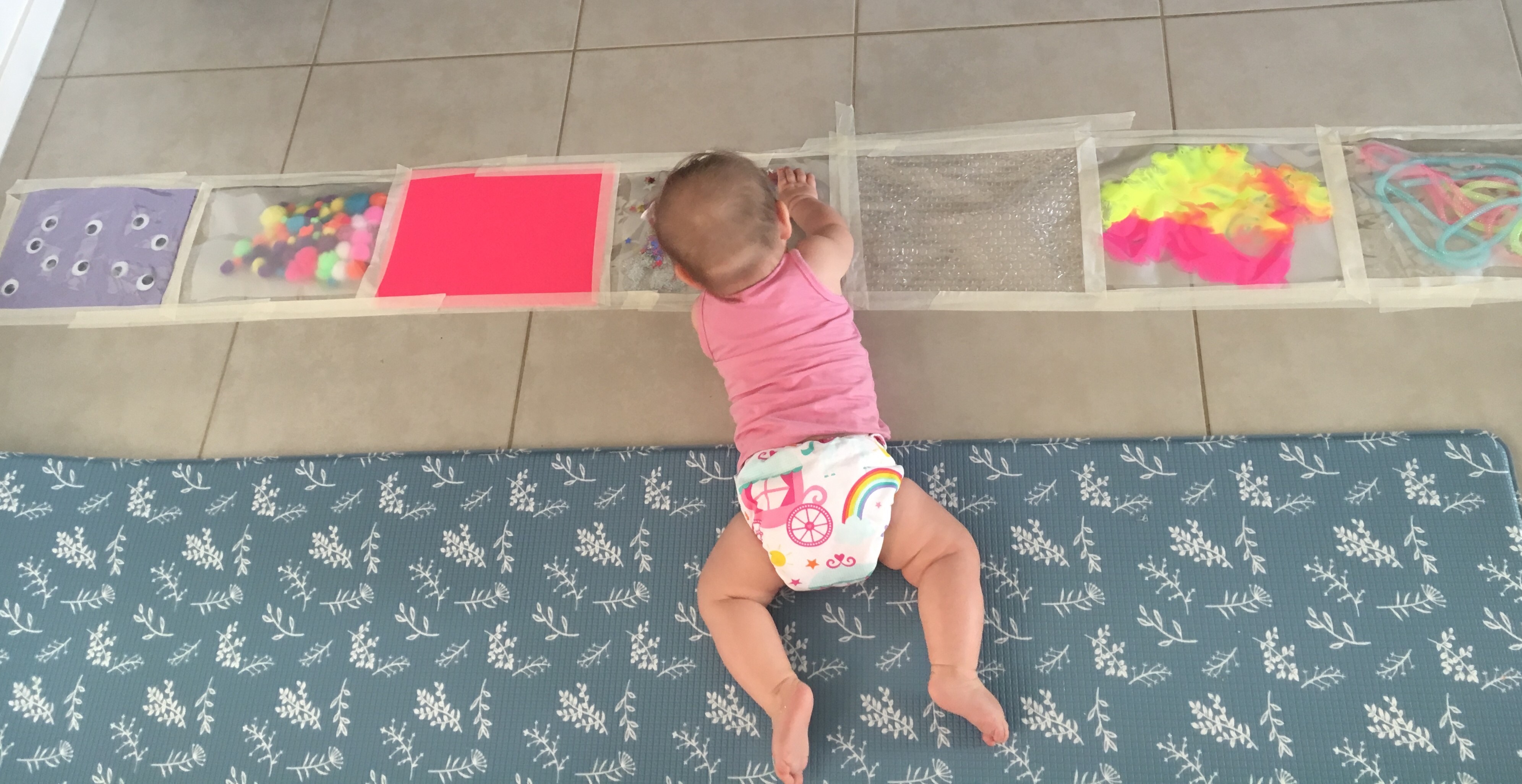 Shape stamping - encourage shape awareness
Age group:  18 months and older
Learning benefit/skill developed:
Encourages shape recognition, labelling and awareness
Encourages language through shared conversation and interaction
Allows children to explore different methods of creating art
What you'll need:
​Paper
Paint (can make your own, see Family Hub for recipe)
Cookie cutters in different shapes (if you don't have any, you can make your own stamps using cardboard)
A plate of flat container for the paint
Instructions:
Show your child how to stamp the cookie cutter into the paint, then on the paper, then let them explore.
Tips/advice:
Talk to your child about what shapes they're making, and what colours they're using.
Download or print activity here.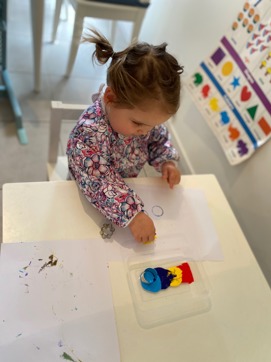 SDN is committed to the safety of children and families and encourages the safe undertaking of activities on the hub. For more information read our terms and conditions. For more on child safety at home visit Raising Children network.
Sign up to our monthly Family Activity hub email to receive the latest activities.
related articles
You may be interested in