Parenting
The magic of child-led learning
Imagine an early education program based not on an inflexible, predetermined curriculum, but on a child's actual interests.
Welcome to the concept of child-led learning – a process that's very much directed by the children and the ideas that are captivating them at a particular point in time. It's an approach we actively embrace at SDN.
The truly exciting thing is that any interest can spark a learning direction. It could be something happening in the media, a conversation held at home, or something they've seen in a book. For us as educators, it's all about honing in on their awareness of different topics and extending that interest into a series of positive learning opportunities.
One great recent example is SDN Milperra's superhero-themed dramatic play space. Emerging through a series of group and general conversations with the children, the concept grew collaboratively, with everyone sharing their own thinking and contributing their own ideas around a theme they loved. Through an interest in this one topic, we created a superhero corner, staged a superhero dress-up day, and developed a broad range of multi-faceted experiences in which children are viewed as competent and capable learners. This promoted the children to think beyond the here and now and ask questions like, what is a hero? Who is a hero?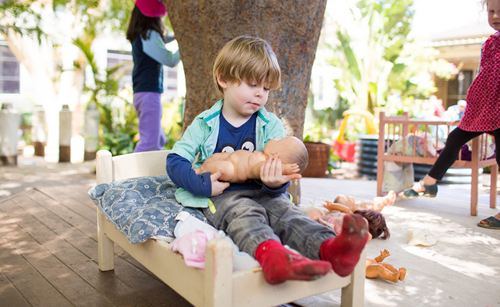 As well as being an enormous amount of fun, child-led learning leads to great educational and developmental outcomes. That's because children are far more likely to be engaged with learning if the actual learning program stems directly from their own ideas and is meaningful. This approach accommodates their creativity and imagination, and encourages them to share their ideas and thoughts. It allows them to investigate, to be curious, and to challenge and clarify their thinking. And because these types of learning opportunities tend to draw in all of the children in a group, they cater to all of their individual personalities and foster their sense of being, belonging and becoming.
The great news is that there's no fixed duration for any theme or idea. It's very much driven by the children. It might last a day, a week, or a month. It might even last a full year. The sky is indeed the limit.
Melissa Cama and Sheridan Hewson – SDN Milperra
Find out about SDN's upcoming events