Children's Therapies
Meet Annie and Harry
Annie is a single mum with two children. When we first met her, she was feeling a little overwhelmed trying to work out how to fit in all the appointments that she thought she needed for her 9 year old son Harry. Harry needed physiotherapy, occupational therapy and speech pathology, and Annie also wanted him to do some sort of extra-curricular activity that he would enjoy, like swimming or music.
"Every child deserves a chance to do activities that they love and I can't let Harry miss out on doing fun things, just because he also needs to go to a lot of appointments as well," Annie told us.
His older sister Hannah is 12 and Annie also wanted to make sure that Hannah had a chance to be a child – with her own time and space to study and play with her friends.
To do everything for Harry, Annie would have needed to take him to four appointments every week, which would mean lots of different faces for Harry to get used to, lots of time spent travelling and lots of appointments to remember.
We paired her with a Key Worker named Karen who's part of a collaborative team of professionals. Annie discussed her concerns with Karen who told her that the collaborative team approach could be an easier solution as she would only have one key contact who would use the skills of the whole team to help Harry. They would use Harry's swimming lessons as a way to address all of his needs.
How does this work? Karen is a physiotherapist who also has a lot of experience with swim school programming. Karen went with the family to swimming class once a week at the local pool. Karen was able to use her physiotherapy skills directly with Harry, and she also used the occupational therapy skills passed on to her from the team to help Harry with undressing and getting into his swimmers. She was also able to use the speech pathology skills from the team to encourage speech from Harry during the lesson.
As a way of relaxing and unwinding after the lesson, Karen and Harry like to spend some time on the iPad. Harry loves this time and he really engages with the game. He uses it as a way to learn to communicate, and tell his mum about his swimming lesson.
Karen now takes the family to the pool once a week and Annie has also been able to learn new skills to help Harry through his lessons. She's now confident enough to take Harry to swimming lessons by herself once a week too. So Harry gets two lessons a week and he loves it!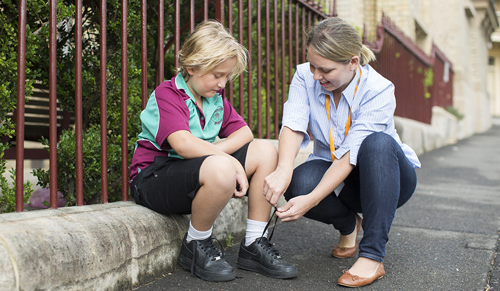 This approach has changed so much for Harry and his family. The therapy happens in a natural setting, and it involves an activity that Harry enjoys so he wants to learn and he puts a lot of effort into each class. Karen has also given Annie the confidence to help Harry herself, and it also gives his sister Hannah some respite time.
"I'm so happy with how much Harry is learning. It's nice to see the smile spread across his face whenever he learns something new. It's moments like this that mean so much to me. Having Karen with us at swim school once a week makes things a lot easier and she guides Harry through his therapy in a really simple way that doesn't overwhelm him. I'm finding that I'm learning as well and I'm able to keep teaching Harry even when Karen isn't around," Annie told us. "This approach has really made a difference for me and my family."