About this Centre
SDN Crookwell Preschool is a 29-place, community-based centre that operates five days a week and also provides occasional care on Fridays for children aged from birth to five years.
Our educational program encourages each child to pursue their own interests through play-based learning. Our qualified educators recognise and build on these interests and strengths to ensure your child is engaged in learning.
Our centre has an extensive natural outdoor play area which children can use all year round. We have real trees for climbing, real grass for soccer and footy, and bugs and nature to explore. We are across the road from Crookwell Memorial Oval so we have plenty of extra space for free running and parachute and earth ball games. We also participate in community events and have ongoing collaborative partnerships with local schools, Viewhaven Nursing Home, our local library and local businesses which we regularly visit.
SDN Crookwell Preschool offers a welcoming environment where families are actively encouraged to work in partnership with our centre to support their child's learning and wellbeing. Families and friends are always welcome, and are invited to join in play activities, excursions and events such as Grandparents Week, Mother's Day pampering and Father's Day breakfasts.
Our families say…
"Teachers are always very caring and welcome, my son has made a lot of new friendships."
"I like leaving my child with friendly staff, in a fun, safe environment, knowing he will learn."
360 Virtual Tour
Explore this centre
Learn more
Nutrition and mealtimes
We provide children with a variety of healthy foods, and cater for children with allergies and intolerances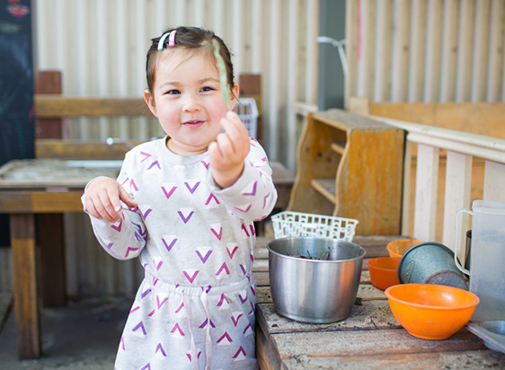 Centre History
SDN Crookwell History
The traditional owners of the Crookwell area are the Gundungurra People.
Crookwell Preschool first opened on 16 June 1970 and later joined the SDN family on 29 January 2002 when it became SDN Crookwell Preschool.
Growing from a community-initiated vision at a public meeting, the first buildings were transported in from local schools, with further purpose-built additions over the years. Crookwell Preschool became recognised as an integral part of education and child development in the area. An Outreach Program travelled as far as Bigga to help families access the preschool, and a 'Country Day' was established for children who could only attend once a week.
Since its beginnings, SDN Crookwell Preschool has undergone many changes, always maintaining and reflecting a strong connection with the families in this vibrant and diverse community.
Interested in how SDN Crookwell can help your child?
Call us today on 1300 831 445
SDN centres
Other Centres Near Me