SDN Crookwell Preschool is a 29 place, community-based centre for children aged three to five years. The centre also provides occasional care on Fridays for children aged from birth to five years.
Our qualified educators recognise and build on children's interests and strengths and they encourage and support children to pursue their own interests and to learn through play. You can learn more about our educational program here.
The centre has an extensive outdoor play area with trees for climbing, real grass for soccer and footy, and bugs and nature to explore. Crookwell Memorial Oval is across the road from us, so we also have plenty of extra space for games and activities. We participate in local community events and have strong relationships with local schools, the Viewhaven Nursing Home, our local library and local businesses. Families and friends are always welcome and are invited to join us for many events and activities throughout the year.
Our families say…
"Teachers are always very caring and welcome, my son has made a lot of new friendships."
"I like leaving my child with friendly staff, in a fun, safe environment, knowing he will learn."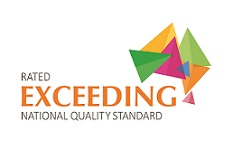 Read our reviews
Reviews from Google
(1)
James Sadlier (Jimmy James)
Find a vacancy
Our vacancies
Availability
High
Medium
Limited
None
Meet the Director - Amanda Wooll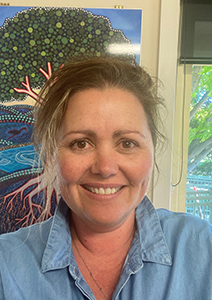 I have a passion for working with children. I began my early childhood educator career as a Nanny in the Southern Highlands over 20 years ago, and I have been working in Early Childhood Education and Care settings in the Crookwell community for more than 15 years.
I hold a Diploma of Children Services which, was gained with outstanding recognition, through TAFE Illawarra, and I am working towards my Bachelor of Education (Early Childhood Teaching).
I initially worked at SDN Crookwell from 2006-2017 before following career opportunities in leadership roles in both Goulburn and Crookwell. Equipped with the skills and knowledge, I happily returned as Director in February 2021 and it feels like returning home. I received a big bear hug from a family who have had children here when I worked here previously, and still have children here. They said "We are so happy to have you back!" it was a very endearing moment.
Working in the early education and care sector is truly rewarding. We get to enjoy the feeling of creating a difference in a child's journey, and we also have the opportunity to build strong relationships with children, their families and the local community.
I love how SDN values children and learning. They invest back into their centres to ensure educators and families are well supported in their roles.
SDN Crookwell preschool has a wonderful natural outdoor space, and children can explore in learning areas which are authentic to their lives. For example we have many children who are from farming backgrounds, so our outdoor environment has a shearing shed, a dirt pit and sand pit for construction, chook yard and vegetable garden. We also have long term committed educators who are familiar with culture and events.
In my spare time, I like water skiing with family and friends. I also like to travel, and attending tennis events with friends.
Preschool Educational program
Developed by university-trained early childhood teachers, our preschool program focuses on the whole child, building healthy bodies, caring hearts and curious minds.
We will draw on your child's interests, strengths, needs and culture to plan and implement a program that best meets their learning and developmental needs.
The program is flexible and will give your child a voice in their learning and development. Your child will be our co-planner, sharing ideas and questions that drive their learning. Our preschool teachers will plan experiences for your child that focus on specific skills in an engaging and meaningful way to support their growing skills and knowledge.
We will immerse your child in a language-rich environment and support them to develop the skills and mindset they need for a successful start to school. Through planned play and learning experiences your child will develop the listening and social skills as well as a passion for learning with curiosity, enthusiasm, persistence, cooperation and focused attention they will need when they transition to school.
Our centres have a transition to school program where our educators work together with local kindergarten teachers and our preschool teachers attend transition to school meetings with local schools.
Read more about our Child-led Educational program here.
SDN's outdoor spaces provide opportunities for children to enjoy themselves and have adventures. They're safe environments for children to run, jump and yell, make mud cakes, and use their energy. Outdoor spaces provide more than physical benefits. Even though you may think that children only play outside to have fun, they're also improving their thinking, social, and emotional skills. When they're playing outside, they're inventing games, learning about the world at their own pace, and figuring out social customs like turn-taking.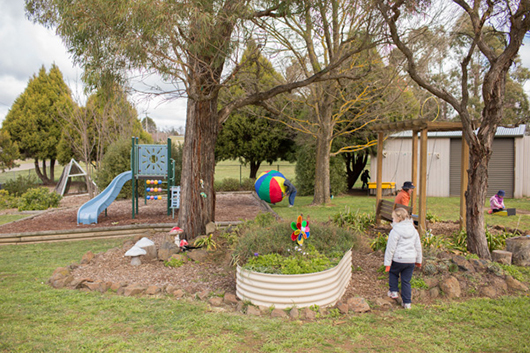 SDN Crookwell has a large outdoor play area with lots of trees to provide shade in the summer and sun-dappled adventures during the winter. It's also perfectly quipped to be a great backdrop for your child's adventures. There's a dress up station with helmets and worker's vests, two jungle gyms, and a play row boat! SDN Crookwell also has chickens and a chook house, which was made with help from members of the Men's Shed across the road, who used recycled timber from SDN Crookwell's office renovations a few years ago.
The traditional owners of the Crookwell area are the Gundungurra People.
Crookwell Preschool first opened on 16 June 1970 and later joined the SDN family on 29 January 2002 when it became SDN Crookwell Preschool.
Growing from a community-initiated vision at a public meeting, the first buildings were transported in from local schools, with further purpose-built additions over the years. Crookwell Preschool became recognised as an integral part of education and child development in the area. An Outreach Program travelled as far as Bigga to help families access the preschool, and a 'Country Day' was established for children who could only attend once a week.
Since its beginnings, SDN Crookwell Preschool has undergone many changes, always maintaining and reflecting a strong connection with the families in this vibrant and diverse community.
3-5 Preschoolers  
Spare underwear
Change of clothes
Hat – sun safe
Shoes and Socks
Warm clothes / Jacket (for outside play)
Drink Bottle
Blankets
Your own lunch box - we always have fruit available for the children to eat throughout the day
360 Virtual Tour
Explore this centre
Early Education and child care
What we offer
Learn more
Nutrition and Mealtimes
We provide children with a variety of healthy foods, and cater for children with allergies and intolerances.
Interested in how SDN Crookwell can help your child?
Call us today on 1300 831 445
SDN centres
Other Centres Near Me