About this Centre
SDN Lady McKell is a 73-place centre providing high-quality and early childhood education and child care for children living in Goulburn.
Our diverse team of qualified and passionate early childhood educators warmly welcomes all children and their families to SDN Lady McKell. Our educational program is designed to support each child to explore and research their own interests so they are happy and fully engaged.
SDN Lady McKell has a rich history and a strong connection with the Goulburn community – generations of families have attended our centre. Over the years we're proud to have cultivated a beautiful outdoor environment that children can share in and learn to care for.
Children who attend SDN Lady McKell are active citizens within the community. We are located in the centre of Goulburn so we make regular trips with the children to Goulburn Regional Art Gallery, Goulburn Mulwaree Library, nearby parks and places of interest such as the police station, fire station and local businesses.
In April 2016, SDN Lady McKell was assessed under the National Quality Standard and became the only centre in Goulburn to receive an overall rating of Exceeding the National Quality Standard, and Exceeding in all seven quality areas.
SDN Lady McKell welcomes children with disabilities or developmental delays, and families in need of support and assistance.
Our families say…
"I'm so thrilled to see how my child has gained confidence and how his language and communication skills have improved. He looks forward to going and is enjoying making friends."
"The resources they have at the centre are fantastic and I love how they feed them nutritious food. My child loves going there."
Learn more
Nutrition and mealtimes
We provide children with a variety of healthy foods, and cater for children with allergies and intolerances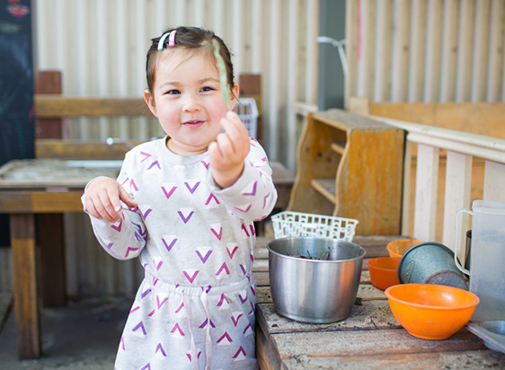 Centre History
SDN Lady McKell, Goulburn History
The area now known as Goulburn Mulwaree was traditionally a very important meeting place for various Aboriginal groups including the Mulwaree, Tarlo, Burra Burra, Wollondilly, Wiradjuri, Gundungurra, Dharrook, Tharawal, Lachlan, Pajong, Parramarragoo, Cookmal and Gnunawal people.
SDN Lady McKell, Goulburn first opened its doors in 1954. The centre was named after Lady Mary McKell, a significant contributor to fundraising and wife of Sir William McKell, the Governor-General of Australia. The building was considered state of the art with maximised light and air to the playrooms and dining room, and access to a well-equipped and protected open-air play area. SDN Lady McKell, Goulburn still provides a wonderful caring and learning space for local children more than 50 years later.
Since its beginnings, SDN Lady McKell, Goulburn has reflected a strong connection with local families, and supported SDN's vision and commitment to enhancing the wellbeing and development of all children.
Interested in how SDN Lady McKell, Goulburn can help your child?
Call us today on 1300 831 445
sdn centres
Other Centres Near Me