SDN Children's Services will be managing this centre on behalf of the University of New South Wales from January 2021.
At Tigger's Honeypot, the central playground is surrounded by vast grassy lawns and gardens to explore.
Children feed and care for our resident chickens as well as plant and harvest their own produce in our blossoming vegetable patches. All planned to develop understanding, appreciation and connections to our natural environment and local cultures.
Our qualified team facilitate innovative, child-centred and child-led learning programs in a safe, healthy, happy and stimulating context that help all children to develop a love of life-long learning through activities and activities and teaching approaches that nurture caring hearts, healthy bodies and curious minds.
Children visit their older friends at the aged care facility Milford House to paint, sculpt, sing, laugh and share stories. Our four rooms offer children time to interact in separate age groups for specifically targeted learning experiences. As well, educators plan opportunities with mixed age groups so the children can learn from each other.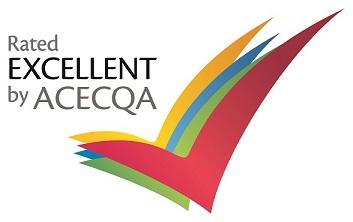 When you start you will be provided with details of exactly what you need to pack. However, you may consider packing:
Sun-safe hat (such as a broad-brimmed or legionnaires hat) which covers your child's face, neck and ears
At least one full spare set of clean clothes
A bib or two (if required)
Nappies as required
Comfort item or transitional object (if required), such as a small toy or blanket
Dummy in a sealed container (if required)
Bottles with expressed milk or formula (if required)
Water bottle
Any medications your child may require – please do not leave these in your child's bag, instead, give to centre staff and do not leave the centre until you have completed the relevant medication form.
From 1 January 2021, our fees will be $166 per day for children under three years old and $147 per day for children three years and over.
NB: UNSW University staff fees will be $157 per day and $138 per day for children three years and over. UNSW University student fees will $128 per day and $115 per day for children three years and over.
The majority of families in our centres do not pay the full daily fee because they receive Child Care Subsidy (CCS) from the government.
The subsidy you may receive through the CCS will depend on:
Your combined family income
The number of hours you work, study or participate in recognised volunteer work. This is called the 'activity test'. If your child is in the year before school, if you are on a very low income, or if you are on parental leave, you will not have to pass the activity test to receive some CCS.
Your child will need to meet immunisation requirements and you will need to meet residency requirements to be eligible to receive the CCS.
Try our CCS estimator tool here.
You can also calculate what your out of pocket child care costs will be on the government's child care subsidy calculator.
If you've read this information and you're still unsure about what you'll pay, please call us or book a centre tour. We're happy to answer your questions.
Interested in how SDN Tigger's Honeypot Randwick at UNSW can help your child?
Call us today on 1300 831 445
SDN Centres
Other Centres Nearby