SDN Batemans Bay Preschool offers quality early childhood education to 30 children that is focused on ensuring children are prepared for school.
Our preschool was first established in the 1970s and our new centre was purpose-built in 2005. It is a modern, light-filled environment which encourages successful learning, confidence and a sense of belonging.
At SDN Batemans Bay each child benefits from a creative, play-based and child-focused curriculum developed by our trained early childhood educators, led by a highly qualified and experienced educational leader. Our educators pay attention to your child's interests and create a learning program that nurtures and extends upon these understandings. We also offer a transition to school program that's seamlessly integrated into our preschool program.
SDN Bateman's Bay operates as a hub for local children and their families. With regular excursions, visiting performers and events, we offer a strong foundation for your child's understanding of their place in the community, as well as for their education.
SDN Bateman's Bay welcomes children with disabilities or developmental delays, and families in need of support and assistance.
Our families say…
"I love that the staff have made my child feel so valuable, so accepted and so curious to learn so much."
"My son absolutely loves preschool, he is so comfortable there, loves his teachers and has learnt a lot about how to respect and behave towards other children."
360 Virtual Tour
Explore this centre
Learn more
Nutrition and mealtimes
We provide children with a variety of healthy foods, and cater for children with allergies and intolerances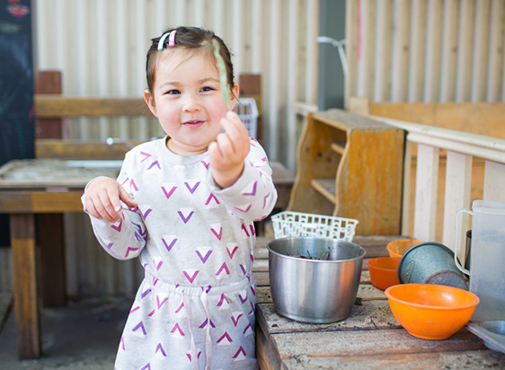 Centre History
SDN Batemans Bay History
The Batemans Bay area is part of the Yuin Nation and the traditional owners of the land are the Walbunja People. Captain James Cook named the town Batemans Bay in 1770.
Batemans Bay Preschool Kindergarten opened in 1975 in Herarde Street after a local resident recognised the need for early years education. Bateman's Bay joined the SDN family in 1999 after SDN Children's Services was invited to assume management. The preschool relocated to a modern, purpose-built centre at 1a Melaleuca Crescent in 2005.
Since its beginnings, SDN Batemans Bay Preschool has reflected a strong connection with local families, and supported SDN's vision and commitment to enhancing the wellbeing and development of all children.
Interested in how SDN Batemans Bay can help your child?
Call us today on 1300 831 445
sdn centres
Other Centres Near Me
story hub
You may also be interested in...