SDN Beranga Autism Specific Preschool
3 years to school age with a diagnosis of autism.
SDN Beranga is a purpose built preschool for children with autism located in Rooty Hill. It provides early childhood education for 27 children daily, and also offers early childhood intervention services and children's therapies.
Over the six years we've been in operation we've supported hundreds of children and families, including many who have transitioned to a mainstream environment.
Each child and family attending SDN Beranga is supported with an individual approach to suit their needs. Our staff include teachers, educators, social workers, occupational therapists, speech pathologists, and cooks. We identify children and families' strengths, then work with you to set goals for your child. Find out more about how SDN Beranga can help your child by reading the SDN Beranga Family Information Handbook here.
While you can't use your child's NDIS package to pay for preschool, you can access additional therapy through SDN Beranga's onsite therapists and pay for it through your child's NDIS package. Our therapists will work hand-in hand with you and your child's educators to ensure that their therapy takes place wherever they live and play.
If your child does not yet have an NDIS package, our family resource worker can help you to navigate the NDIS application and planning process.
Agatha Nicol, the cook working for SDN Beranga when it opened, shared her nutritious, affordable and approachable meals with the world when SDN Beranga mealtimes: cooking and sharing meals with your child with autism was published - you can view and download the book for free here.
Additional Services available at SDN Beranga.
Hear what our families say...
Read our reviews
Reviews from Google
(5)
My son has learnt and become a very different boy being at SDN. Would recommend them highly especial
...
Read More
They are an excellent centre with the most amazing staff - we can't speak highly enough of them and
...
Read More
Amazing center for children who have been diagnosed with an autism spectrum disorder.
Find a vacancy
Our vacancies
Availability
High
Medium
Limited
None
Meet the Director - Niamh Kennedy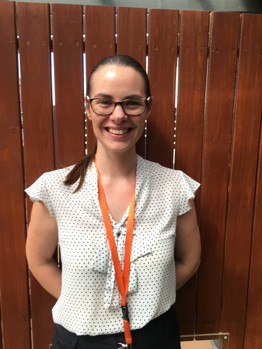 "We take pride in providing quality early childhood education for autistic children. We do this by using best practices in early intervention approaches, positive behaviour and play-based learning." 
My qualifications and experience   
I hold a Bachelor's degree (Level 8) in Montessori Education from St. Nicholas Montessori College, Dun Laoghaire, in Dublin, Ireland. This trained me up as both an Early Childhood and Special Needs Teacher. 
I have worked in special and mainstream settings since 2006. I started my formal teaching career in 2010 in an autism classroom in an Irish public school. I then spent a couple of years in a School for Specific Purpose, working with children 5 – 15 years with varying needs. 
I arrived in Australia in 2013, first working as an Educational Leader in a for-profit early childhood education organisation before finding my home at SDN Beranga in 2017. As SDN Beranga is an Autism Specific Preschool, I was able to reconnect to my special education background. Since joining, I have moved from Room Leader to Educational Leader and became Centre Director in 2020.
What I'm most passionate about in my role   
My role involves supporting and leading the team here to provide inclusive education for autistic children, while also providing guidance and assistance to their families. I love what we do here at SDN Beranga, particularly partnering with families as they navigate their child's learning journey, which for our children can be complex. 
We take pride in providing quality early childhood education for autistic children. We do this by using best practices in early intervention approaches, positive behaviour and play-based learning. We are always trying to improve and develop our practice as a team. The team inspires me daily with the care and passion they bring to their roles.  
What I love about working with SDN  
I really appreciate that SDN is a non-for-profit organisation. Here, the money earned goes back into the services and staff. It is also used to support our advocacy role for children and families as a disability and education provider.   
On top of that, I love how inclusive the organisation is. I think that the existence of SDN Beranga is a testament to the purpose of the organisation to create a more equitable future for autistic children. It brings me great joy and pride that I can support this work.  
A little bit more about me   
I love spending my weekends with my little family. My daughter, born in March 2021, keeps us very much on our toes. You will usually find me during my spare time exploring the playgrounds, beaches and parks of the Eastern suburbs with my daughter and my husband. When I have a moment to myself, I love to go to a Yoga or Pilates class or meet up for some delicious food with friends. 
Regarding my name, Niamh is very common in Ireland but highly unusual in Australia. It is pronounced as "N – eve" or, as I usually say "Eve with an N at the start".  
360 Virtual Tour
Explore this centre
Object reference not set to an instance of an object.
Centre History
SDN Beranga History
The Darug People are the traditional owners of the Western Sydney area where SDN Beranga is located. SDN Beranga first opened its doors in 2013.
Since its formation in 1905, SDN has provided professional, holistic services for children. Specialist staff for children with additional needs began to be employed as early as the 1930s and disability services were formally established in the 1980s.
In 2010, SDN successfully tendered to build and operate an Autism-specific Early Years Demonstration Service in Western Sydney. In August 2011, a transitional program was introduced for families, run from local community centres. SDN Beranga, the purpose-built 'Lighthouse' centre, was officially opened in 2013.
SDN Beranga's delivery model has been highly successful and has produced outstanding results, reflecting our strong connection with local families and supporting SDN's vision and commitment to enhancing the wellbeing and development of all children.
Interested in how SDN Beranga Autism Specific Preschool can help your child?
Call us today on 1300 831 445