SDN Beranga Lighthouse is a purpose built, specialised centre in Rooty Hill that offers early childhood education and child care for 27 children aged up to 6 years. Our staff includes teachers, educators, social workers, occupational therapists, speech pathologists, cooks and administrators.
Find out more about life at Beranga in this video.
If you have a child with Autism Spectrum Disorder (ASD) and have had unsuccessful experiences or have been unable to access mainstream early childhood settings, SDN Beranga may be able to help you. The program focuses on short term strategies and support, with the ultimate goal of transitioning children into mainstream environments such as a mainstream child care centre.
Each child and family that attends SDN Beranga Lighthouse is supported with an individual approach to suit their needs and goals.
The SDN Beranga Mealtimes cookbook has been developed to help families with a child with ASD to prepare nutritious meals, encourage their child to expand their food repertoire and make mealtimes enjoyable family occasions.
Beranga is an Aboriginal word in the local Darug language meaning 'we belong'.
What our families say...
"I really like the loving care at Beranga. My child has a warm and affectionate relationship with educators. He trusts them and feels safe."
"The centre is always clean and tidy, lots of toys and visuals to assist my child with understanding."
SDN Beranga receives funding from the Department of Ageing, Disability and Home Care to operate our children's education and care centre (the Lighthouse), and to deliver a capacity building program to mainstream services in Greater Western Sydney (the Satellite program)
360 Virtual Tour
Explore this centre
Learn More
Nutrition and mealtimes
We provide children with a variety of healthy foods, and cater for children with allergies and intolerances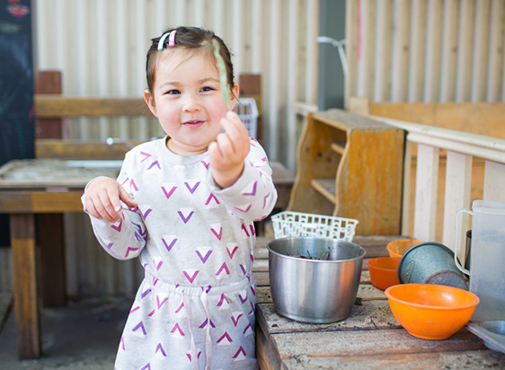 Centre History
SDN Beranga History
The Darug People are the traditional owners of the Western Sydney area where SDN Beranga is located. SDN Beranga first opened its doors in 2013.
Since its formation in 1905, SDN has provided professional, holistic services for children. Specialist staff for children with additional needs began to be employed as early as the 1930s and disability services were formally established in the 1980s.
In 2010, SDN successfully tendered to build and operate an Autism-specific Early Years Demonstration Service in Western Sydney. In August 2011, a transitional program was introduced for families, run from local community centres. SDN Beranga, the purpose-built 'Lighthouse' centre, was officially opened in 2013.
SDN Beranga's delivery model has been highly successful and has produced outstanding results, reflecting our strong connection with local families and supporting SDN's vision and commitment to enhancing the wellbeing and development of all children.
Interested in how SDN Beranga can help your child?
Call us today on 1300 831 445
SDN Centres
Other Centres Near Me
story hub
You may also be interested in...