SDN Chippendale is a cosy centre with a welcoming and home-like atmosphere that offers early childhood education and child care for 36 children from birth to school age.
Nutritious meals are provided to SDN Chippendale's children by a highly qualified cook, and there are tree-covered outdoor play spaces for them to enjoy.
The dedicated SDN Chippendale team is here to help your child thrive. Our educators work in partnership with families to identify each child's strengths and interests, choose teaching strategies, and work alongside your child in SDN Chippendale's engaging yet safe indoor and outdoor learning environments.
When you arrive at SDN Chippendale, you'd never guess that you were in the heart of an innner city suburb. Situated on a  quiet, naturally shaded street with a home-like entrance with plenty of parks within walking distance, SDN Chippendale provides a welcoming and nurturing environment.
Read our reviews
Reviews from Google
(3)
Find a vacancy
Our vacancies
Availability
High
Medium
Limited
None
Image gallery
Take a look around
Meet the Director - Leanne De Matos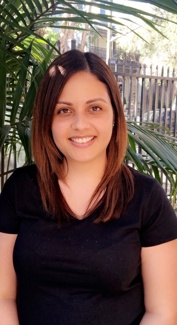 "I'm passionate about building partnerships with families and working together to provide the best possible education and care for children."

My qualifications and experience  
I have a Bachelor of Education in Early Childhood Education.  
I first heard about SDN when I did a work placement at SDN North Sydney whilst completing my Certificate III in Children's Services. After finishing my placement, I secured a permanent position at SDN Linthorpe Street, Newtown, in 2006.  
I worked my way up from an Educator to Room Leader, to Early Childhood Teacher and then stepped into Acting Director when the permanent Centre Director went on parental leave. After gaining experience in leading a centre and team, I was fortunate to secure a permanent Centre Director role at SDN Mosman in 2018 before joining my current role as Centre Director of SDN Chippendale in 2020.  
What I'm most passionate about in my role  
As Centre Director, I enjoy mentoring other educators, especially supporting them in creating inviting play environments and developing strong educational programs. 
I'm also passionate about building partnerships with families and working together to provide the best possible education and care for children.  
What I love about working with SDN  
I love how SDN works together as an organisation and not just as individual centres. There's a lot of support from everyone in the organisation, regardless of your role. In the centres, I love how inclusive and respectful we are to all children, families, and staff. 
As a beautiful, small-sized centre situated in a residential street, SDN Chippendale feels like a home away from home!
A little bit more about me  
Outside of work, I enjoy relaxing with my family and friends and catching up on my favourite TV shows. 
Infant & Toddler Educational program
Growing bodies need movement and exercise. Growing minds need stimulus and exploration. Growing hearts need opportunities to play and mix with others.
At SDN we know that the best thing we can do for your infant or toddler is to support them to grow and develop in safe, unhurried, nurturing and challenging environments.
Because infants and toddlers are naturally curious, our centres have well-equipped indoor and outdoor areas that will keep your child moving and give them daily opportunities to explore their limits and grow their abilities.
Your child is unique and so we will devise a learning and development program based on what we know about your child's interests, learning and development. Because they will always be changing and growing, we consistently review the program to ensure we are keeping up with your child's development, providing them with the best learning opportunities.
Read more about our Child-led Educational program here.
Our Preschool Educational program
Developed by university-trained early childhood teachers, our preschool program focuses on the whole child, building healthy bodies, caring hearts and curious minds.
We will draw on your child's interests, strengths, needs and culture to plan and implement a program that best meets their learning and developmental needs.
The program is flexible and will give your child a voice in their learning and development. Your child will be our co-planner, sharing ideas and questions that drive their learning. Our preschool teachers will plan experiences for your child that focus on specific skills in an engaging and meaningful way to support their growing skills and knowledge.
We will immerse your child in a language-rich environment and support them to develop the skills and mindset they need for a successful start to school. Through planned play and learning experiences your child will develop the listening and social skills as well as a passion for learning with curiosity, enthusiasm, persistence, cooperation and focused attention they will need when they transition to school.
Our centres have a transition to school program where our educators work together with local kindergarten teachers and our preschool teachers attend transition to school meetings with local schools.
Read more about our Child-led Educational program here.
Families in our urban based centres often call our outdoor areas their "green oasis".
SDN's outdoor spaces provide opportunities for children to enjoy themselves and have adventures. They're safe environments for children to run, jump and yell, make mud cakes, and use their energy.
Outdoor spaces provide more than physical benefits. Even though you may think that children only play outside to have fun, they're also improving their thinking, social, and emotional skills. When they're playing outside, they're inventing games, learning about the world at their own pace, and figuring out social customs like turn-taking.
These are just some of the reasons SDN invests in developing new, award-winning outdoor spaces with natural designs that inspire children's curiosity, physical play, and social play.
As of 11 July 2022, our fees are $127 per day for children of all ages.
The majority of families in our centres do not pay the full daily fee because they receive Child Care Subsidy (CCS) from the government.
The subsidy you may receive through the CCS will depend on:
Your combined family income
The number of hours you work, study or participate in recognised volunteer work. This is called the 'activity test'. If your child is in the year before school, if you are on a very low income, or if you are on parental leave, you will not have to pass the activity test to receive some CCS.
Your child will need to meet immunisation requirements and you will need to meet residency requirements to be eligible to receive the CCS.
Try our CCS estimator tool here.
You can also calculate what your out of pocket child care costs will be on the government's child care subsidy calculator.
If you've read this information and you're still unsure about what you'll pay, please call us or book a centre tour. We're happy to answer your questions.
0-2 Babies
Change of clothes x2
Hat – sun safe  
Shoes and Socks
Warm clothes / Jacket (for outside play)
Shoes and Socks
Comforter – soft toy/blanket/dummy
Bottles and milk formula/breast milk
Blanket / Cot sheets
2-3 Toddlers
Spare underwear
Change of clothes
Hat – sun safe
Shoes and Socks
Warm clothes / Jacket (for outside play)
Drink Bottle
Comforter – for rest time
Blankets
3-5 Preschoolers  
Spare underwear
Change of clothes
Hat – sun safe
Shoes and Socks
Warm clothes / Jacket (for outside play)
Drink Bottle
Blankets
Early Education and child care
What we offer
Learn more
Nutrition and Mealtimes
We provide children with a variety of healthy foods, and cater for children with allergies and intolerances.
Interested in how SDN Chippendale can help your child?
Call us today on 1300 831 445
sdn centres
Other Centres Near Me