About this Centre
As unique as the community we work in, our centre at Erskineville welcomes children from birth to six years old. We're a team passionate about providing a safe and encouraging environment for your child to learn, grow, and cultivate a sense of belonging.
Learning through play has an important role at Erskineville. Each child brings with them strengths, capabilities, culture, interests, current knowledge, ideas and experiences. Play enables children to learn from each other, explore each other's world and the world around them.
Our educators work in partnership with families to identify each child's strengths and interests, choose teaching strategies, design learning environments, and to connect our service-based learning opportunities with home-based learning. Our team of educators include three University trained Teachers, three TAFE trained Educators and several highly experienced Early Childhood Educators.
Learn More
Nutrition and mealtimes
We provide children with a variety of healthy foods, and cater for children with allergies and intolerances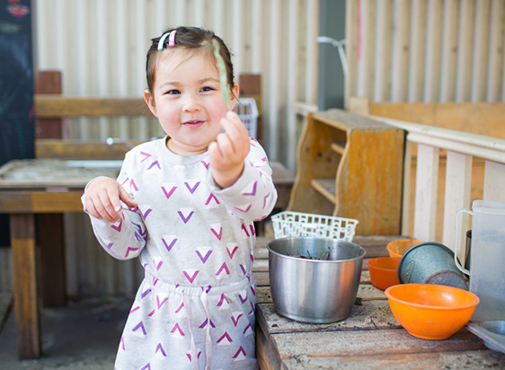 Centre History
SDN Erskineville History
SDN Erskineville first opened its doors on 25 August 1937 – run out of a house at 88 Swanson Street with an enrolment of 23 children. At the official opening, Lady Mayoress Mrs G.A. Parkes announced that Erskineville Nursery School would be a place "of love" where children would be taken care of and developed into good citizens.
Quality, affordable childcare had been in high demand in inner Sydney since SDN's foundation in 1905. With the introduction of nursery schooling in the 1930s, SDN's focus turned to providing early education for the children of workers living in Erskineville's crowded terrace houses.
In 1945, the school was completely redesigned by Ellice Nosworthy, one of Australia's first female architecture graduates, re-opening in 1947 as a 'new modern nursery'. Many years later in 1999 a cot room for babies was added.
The traditional owners of the land are the Gadigal people of the Eora nation.
Over the years the area has seen many changes, and since its beginnings SDN Erskineville has welcomed children from many different cultures and backgrounds. SDN Erskineville maintains and reflects strong connections with this vibrant, diverse and ever-changing community.
Interested in how SDN Erskineville can help your child?
Call us today on 1300 831 445
SDN Centres
Other Centres Near Me