The centre's location, right in the heart of the UNSW's Kensington Campus, overlooking the village green, means that children enjoy direct access to explore the University grounds and all that is on offer.
House at Pooh Corner has a rich and long-standing heritage with staff and students of UNSW and attracts many international families, providing our children with countless great experiences of different cultures and multiple languages, making friends from all over the world.
Our qualified team facilitate innovative, child-centred and child-led learning programs in a safe, healthy, happy and stimulating context that help all children to develop a love of life-long learning through activities and teaching approaches that nurture caring hearts, healthy bodies and curious minds.
Our onsite cook prepares delicious and healthy seasonal menus for morning tea, lunch and afternoon tea on a daily basis. Special dietary needs and requests should be discussed with the Chef and Director during orientation.
Find a vacancy
Our vacancies
Availability
High
Medium
Limited
None
Image gallery
Take a look around
Meet the Director - Gerard Moon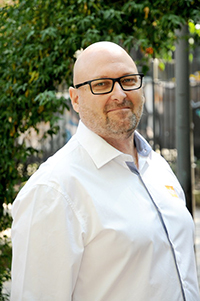 "I love working at SDN because of their child and family-centred philosophy and their history of providing quality not-for-profit care and education."

My qualifications and experience  
I have a Bachelor in Education (Early Childhood), a Diploma in Education and Care and Business Management and Leadership, and a Certificate IIII in Workplace Training and Assessment. 
I first worked for SDN in 1988, as a casual childcare worker before getting a full-time position in the nursery at Sydney Day Nursery and Nursery Schools Association in Hillsdale. I left when that became run by the Council. 
Since then, I've worked for Uniting Care, worked in Prince of Wales Children's Hospital as a play therapist, and was Regional Manager for Goodstart. Most recently I was Manager Educational Leadership and Excellence for ACECQA; the Australian Children's Education and Care Quality Authority. 
I returned to SDN in 2019, working at SDN Chippendale before moving to SDN House at Pooh Corner Kensington at UNSW in 2020. 
What I'm most passionate about in my role  
I'm very passionate about leading a team of professional educators in providing the best possible education and care to children and families at the centre.
What I love about working with SDN 
I love working at SDN because of their child and family centred philosophy. I also love that they have a rich history of providing quality not-for-profit care and education, as well as the community of professionals and support that is provided by the organisation. 
A little bit more about me  
At home, I have two dogs, two cats, and two children. 
I'm also a bit of a Disney nut and collect Disney memorabilia. My wife and I visit the theme parks (we've been to all 12 now) and even attend Disney Club meetings (yes, that's a thing!).
The playground is designed to stimulate play, exploration and imagination. It provides opportunities for indoor and outdoor play.
From 4 July 2022, our fees will be $186 per day for children under three years old and $164 per day for children three years and over.
NB: UNSW University staff fees will be $175 per day and $154 per day for children three years and over. UNSW University student fees will $143 per day and $128 per day for children three years and over.
The majority of families in our centres do not pay the full daily fee because they receive Child Care Subsidy (CCS) from the government.
The subsidy you may receive through the CCS will depend on:
Your combined family income
The number of hours you work, study or participate in recognised volunteer work. This is called the 'activity test'. If your child is in the year before school, if you are on a very low income, or if you are on parental leave, you will not have to pass the activity test to receive some CCS.
Try our CCS estimator tool here.
Your child will need to meet immunisation requirements and you will need to meet residency requirements to be eligible to receive the CCS.
You can also calculate what your out of pocket child care costs will be on the government's child care subsidy calculator.
If you've read this information and you're still unsure about what you'll pay, please call us or book a centre tour. We're happy to answer your questions.
When you start you will be provided with details of exactly what you need to pack. However, you may consider packing:
Sun-safe hat (such as a broad-brimmed or legionnaires hat) which covers your child's face, neck and ears
At least one full spare set of clean clothes
A bib or two (if required)
Comfort item or transitional object (if required), such as a small toy or blanket
Dummy in a sealed container (if required)
Bottles with expressed milk or formula (if required)
Water bottle
Any medications your child may require – please do not leave these in your child's bag, instead, give to centre staff and do not leave the centre until you have completed the relevant medication form.
Interested in how SDN House at Pooh Corner Kensington at UNSW can help your child?
Call us today on 1300 831 445
SDN Centres
Other Centres Nearby