The centre's location, right in the heart of the UNSW's Kensington Campus, overlooking the village green, means that children enjoy direct access to explore the University grounds and all that is on offer.
House at Pooh Corner has a rich and long-standing heritage with staff and students of UNSW and attracts many international families, providing our children with countless great experiences of different cultures and multiple languages, making friends from all over the world.
Our qualified team facilitate innovative, child-centred and child-led learning programs in a safe, healthy, happy and stimulating context that help all children to develop a love of life-long learning through activities and teaching approaches that nurture caring hearts, healthy bodies and curious minds.
Our onsite cook prepares delicious and healthy seasonal menus for morning tea, lunch and afternoon tea on a daily basis. Special dietary needs and requests should be discussed with the Chef and Director during orientation.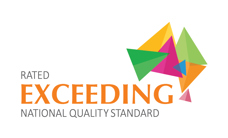 No reviews found.
Find a vacancy
Our vacancies
Availability
High
Medium
Limited
None
Meet the Director - Gerard Moon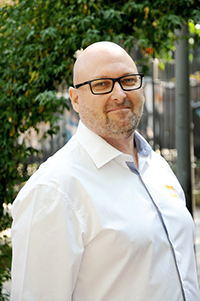 "I love working at SDN because of their child and family-centred philosophy and their history of providing quality not-for-profit care and education."
My qualifications and experience  
I have a Bachelor in Education (Early Childhood), a Diploma in Education and Care and Business Management and Leadership, and a Certificate IIII in Workplace Training and Assessment. 
I first worked for SDN in 1988, as a casual childcare worker before getting a full-time position in the nursery at Sydney Day Nursery and Nursery Schools Association in Hillsdale. I left when that became run by the Council. 
Since then, I've worked for Uniting Care, worked in Prince of Wales Children's Hospital as a play therapist, and was Regional Manager for Goodstart. Most recently I was Manager Educational Leadership and Excellence for ACECQA; the Australian Children's Education and Care Quality Authority. 
I returned to SDN in 2019, working at SDN Chippendale before moving to SDN House at Pooh Corner Kensington at UNSW in 2020. 
What I'm most passionate about in my role  
I'm very passionate about leading a team of professional educators in providing the best possible education and care to children and families at the centre.
What I love about working with SDN 
I love working at SDN because of their child and family centred philosophy. I also love that they have a rich history of providing quality not-for-profit care and education, as well as the community of professionals and support that is provided by the organisation. 
A little bit more about me  
At home, I have two dogs, two cats, and two children. 
I'm also a bit of a Disney nut and collect Disney memorabilia. My wife and I visit the theme parks (we've been to all 12 now) and even attend Disney Club meetings (yes, that's a thing!).
Infant & toddler educational program
Growing bodies need movement and exercise. Growing minds need stimulus and exploration. Growing hearts need opportunities to play and mix with others.
At SDN we know that the best thing we can do for your infant or toddler is to support them to grow and develop in safe, unhurried, nurturing and challenging environments.
Because infants and toddlers are naturally curious, our centres have well-equipped indoor and outdoor areas that will keep your child moving and give them daily opportunities to explore their limits and grow their abilities.
Your child is unique and so we will devise a learning and development program within our curriculum pillars, based on what we know about your child's interests, learning and development. Because they will always be changing and growing, we consistently review the program to ensure we are keeping up with your child's development, providing them with the best learning opportunities.
Read more about our practice with children here.
Preschool educational program
Get more than school-ready, get life-ready 
Getting school-ready is a journey. It begins with your child's very first day at our welcoming early education and care centres and continues with our dedicated preschool program.
Developed by university-trained early childhood teachers, our preschool program focuses on the whole child. Children learn to make friends and work together, while gaining the skills and independence they need to thrive through the big transition to school.
Our preschool program follows an evidence-backed, play-based learning approach. Children have fun and follow their curiosity, while we weave in vital skills and learning outcomes.
SDN uses Australia's Early Years Learning Framework to explore a diverse curriculum from science to social justice. Our days are predictable but flexible, blending structured and spontaneous learning, free play, movement and quiet time.
Our curriculum pillars are:
 Relationship and social skills

 Critical thinking and problem solving

 Early literacy and numeracy

 Health, wellbeing and movement
 Science, technology, construction and design
 Nature play and sustainability

 Creative arts
 Equity and social justice
Our centres have a transition to school program where our teachers and educators work together with local schools to prepare your child for a smooth transition, and support families through the process.
Read more about our preschool program here.
Families in our urban based centres often call our outdoor areas their "green oasis".
SDN's outdoor spaces provide opportunities for children to enjoy themselves and have adventures. They're safe environments for children to run, jump and yell, make mud cakes, and use their energy.
Outdoor spaces provide more than physical benefits. Even though you may think that children only play outside to have fun, they're also improving their thinking, social, and emotional skills. When they're playing outside, they're inventing games, learning about the world at their own pace, and figuring out social customs like turn-taking. The playground is designed to stimulate play, exploration and imagination. 
These are just some of the reasons SDN invests in developing new, award-winning outdoor spaces with natural designs that inspire children's curiosity, physical play, and social play.
From 1 January 2023, our fees will be $195 per day for children under three years old and $171 per day for children three years and over.
NB: UNSW University staff fees will be $184 per day and $160 per day for children three years and over. UNSW University student fees will $150 per day and $133 per day for children three years and over.
The majority of families in our centres do not pay the full daily fee because they receive Child Care Subsidy (CCS) from the government.
The subsidy you may receive through the CCS will depend on:
Your combined family income
The number of hours you work, study or participate in recognised volunteer work. This is called the 'activity test'. If your child is in the year before school, if you are on a very low income, or if you are on parental leave, you will not have to pass the activity test to receive some CCS.
Try our CCS estimator tool here.
Your child will need to meet immunisation requirements and you will need to meet residency requirements to be eligible to receive the CCS.
You can also calculate what your out of pocket child care costs will be on the government's child care subsidy calculator.
Additional Preschool fee relief
In addition, the NSW Government is providing up to $2110 in fee relief for preschool aged children who are enrolled in the preschool program at SDN Children's Services from 2023.

If your child will be 4 on or before 31 July 2023, this additional funding could mean up to $40 a week in fee relief to your family, on top of the existing child care subsidy.
Read more about the NSW early years commitment. 
If you've read this information and you're still unsure about what you'll pay, please call us or book a centre tour. We're happy to answer your questions.
0-2 Babies
Change of clothes x2
Hat – sun safe  
Shoes and Socks
Warm clothes / Jacket (for outside play)
Shoes and Socks
Comforter – soft toy/blanket/dummy
Bottles and milk formula/breast milk
Blanket / Cot sheets
2-3 Toddlers
Spare underwear
Change of clothes
Hat – sun safe
Shoes and Socks
Warm clothes / Jacket (for outside play)
Drink Bottle
Comforter – for rest time
Blankets
3-5 Preschoolers  
Spare underwear
Change of clothes
Hat – sun safe
Shoes and Socks
Warm clothes / Jacket (for outside play)
Drink Bottle
Blankets
In May 2020, UNSW called for tenders to operate their three remaining three centre. SDN successfully tendered, and following an extensive transition process, began management of Tigger's Honeypot, The House at Pooh Corner and Owl's House on behalf of UNSW in January 2021.
Read more about SDN House at Pooh Corner Kensington at UNSW's history here.
Image gallery
Take a look around
Early education and child care
What we offer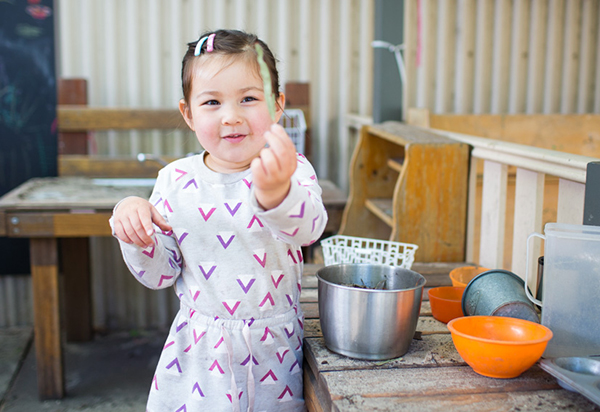 Learn More
Nutrition and Mealtimes
We provide children with a variety of healthy foods, and cater for children with allergies and intolerances.
Interested in how SDN House at Pooh Corner Kensington at UNSW can help your child?
Call us today on 1300 831 445
SDN Centres
Other Centres Near Me
Learn more
You may also be interested in...