SDN Hurstville is a 39-place centre offering early childhood education and child care for children from 18 months to school age in Sydney's St George area.
As a smaller centre with a high staff-to-child ratio, we are able to provide your child with small-group, interest-based learning experiences. Our centre has two rooms, one for 18 months-3 year old children, and one for 4-5 year old children. We value collaborative relationships with families and we help children to connect with their local community through excursions to the park, library and local shops and through celebrating cultural events such as Lunar New Year. We also have a large outdoor play area which recently won a bronze medal for landscape design. You can learn more about our educational program here.
Many of our educators have worked at SDN Hurstville for over 10 years. We have a diverse team of qualified early childhood professionals that includes Mandarin, Cantonese, Malay and Arabic-speaking team members.
Hear what our families say…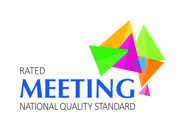 Read our reviews
Reviews from Google
(10)
My dental (Smyla Dental) company performed a dental incursion at this childcare and noticed how well
...
Read More
Great place for children to stay safe and joy. With a lot of care and love through amazing staff
What a fantastic little centre! Great engaged educators, with years and years of experience in carin
...
Read More
I chose SDN Hurstville 9 years ago for my eldest daughter because of its great reputation in the are
...
Read More
I have had both my kids at this daycare and I cannot highlight enough how amazing it is. The team is
...
Read More
Find a vacancy
Our vacancies
Meet the Director - Amanda Santos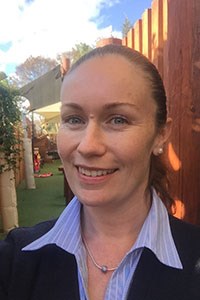 "Since I was little, I knew that I wanted to work with children. I have very happy memories from my own preschool experiences, and to know that I am now an integral part of so many children's memories of their early learning experiences is a wonderful feeling." 
My qualifications and experience 
I hold a Bachelor of Teaching (Birth to School-Age) and a Graduate Diploma in Early Childhood, both from Macquarie University. 
I began working in early childhood as a trainee in 2003 and after completing my practicum placement for my Diploma at SDN Hurstville, a full time position become open and I joined the team in 2006. It has been great to work at the same centre for nearly twenty years, and to have had the opportunity to work my way up through various positions to become the Centre Director. 
Since I was little, I knew that I wanted to work with children. I have very happy memories from my own preschool experiences, and to know that I am now an integral part of so many children's memories of their early learning experiences is a wonderful feeling. 
What I'm most passionate about in my role 
On top of being the Centre Director, I am also the Educational Leader, supporting other areas such as early literacy. I am also passionate supporting children and my team to have a love and sense of fun of language through songs and picture books. I do love a good sing-a-long! 
I enjoy sharing my passion of Auslan with the wider centre community, by creating videos for others to learn and share in the joy of language. 
What I love about working with SDN 
I love the differing levels of discussions that occur each day as part of my work with SDN; from deep reflective discussions with my team to chatting with a preschooler about why the moon is out in the day. Each conversation can be so beautiful, challenging and yet meaningful. 
I also love the commitment to ongoing professional development thathas become the culture of SDN. I've been very fortunate to be able to complete Circle of Security Training, Key Word Sign training, and various other courses, including Leadership training. 
A little bit more about me 
When my first son was born deaf in one ear, I chose to learn Auslan (Australian Sign Language), so that as a family we could communicate and for him to feel a sense of pride for his Deaf identify. Ever since, it has become my goal to become fluent in Auslan, and to use it as part of my communication with children and our centre community. This is because I believe that every child should have access to communication, no matter what verbal language they do or do not speak so that that their voice is heard. 
As a Mum of two young boys, any spare time is family time. Going to the beach, drives to new places or simply enjoying walks in our local neighbourhood and nearby parks are some of our favourite things to do. 
Infant & toddler educational program
Growing bodies need movement and exercise. Growing minds need stimulus and exploration. Growing hearts need opportunities to play and mix with others.
At SDN we know that the best thing we can do for your infant or toddler is to support them to grow and develop in safe, unhurried, nurturing and challenging environments.
Because infants and toddlers are naturally curious, our centres have well-equipped indoor and outdoor areas that will keep your child moving and give them daily opportunities to explore their limits and grow their abilities.
Your child is unique and so we will devise a learning and development program within our curriculum pillars, based on what we know about your child's interests, learning and development. Because they will always be changing and growing, we consistently review the program to ensure we are keeping up with your child's development, providing them with the best learning opportunities.
Read more about our practice with children here.
Preschool educational program
Get more than school-ready, get life-ready 
Getting school-ready is a journey. It begins with your child's very first day at our welcoming early education and care centres and continues with our dedicated preschool program.
Developed by university-trained early childhood teachers, our preschool program focuses on the whole child. Children learn to make friends and work together, while gaining the skills and independence they need to thrive through the big transition to school.
Our preschool program follows an evidence-backed, play-based learning approach. Children have fun and follow their curiosity, while we weave in vital skills and learning outcomes.
SDN uses Australia's Early Years Learning Framework to explore a diverse curriculum from science to social justice. Our days are predictable but flexible, blending structured and spontaneous learning, free play, movement and quiet time.
Our curriculum pillars are:
 Relationship and social skills

 Critical thinking and problem solving

 Early literacy and numeracy

 Health, wellbeing and movement
 Science, technology, construction and design
 Nature play and sustainability

 Creative arts
 Equity and social justice
Our centres have a transition to school program where our teachers and educators work together with local schools to prepare your child for a smooth transition, and support families through the process.
Read more about our preschool program here.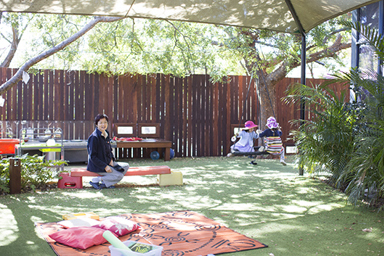 SDN's outdoor spaces provide opportunities for children to enjoy themselves and have adventures. They're safe environments for children to run, jump and yell, make mud cakes, and use their energy. Outdoor spaces provide more than physical benefits. Even though you may think that children only play outside to have fun, they're also improving their thinking, social, and emotional skills. When they're playing outside, they're inventing games, learning about the world at their own pace, and figuring out social customs like turn taking.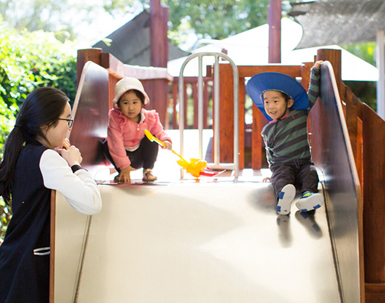 SDN Hurstville's garden and play area has been redesigned and landscaped to provide a safe and exciting outdoor space to encourage children's curiosity, physical skills and social play. It's a light and airy space, shaded by large sails. It has a purpose-built mud kitchen, a miniature jungle gym, a sandpit on top of a low-incline climbing hill, and a wide double slide, which is good for socialising and sliding!
The traditional owners of the area now known as Hurstville are the Biddegal people of the Eora Nation. 

SDN Hurstville was officially opened on 18 March 1998 by Senator Marise Payne in the presence of guests including SDN's then patron Mrs Samuels. The previous year, SDN had taken over the operation of a child care centre run by St George Anglican Church and had moved the centre to its current location on 13 October 1997.
The new building was SDN's first purpose-built centre since the 1970s. It was noted for its light and airy interior which retained portions of the original building – once a local corner shop.
Since its beginnings, SDN Hurstville has undergone many changes, always maintaining and reflecting a strong connection with the families of this vibrant and diverse community.
Read more about SDN Hurstville's history here.
From 7 August 2023, our fees will be $146 per day for children under three years old and $142 per day for children three years and over.
The majority of families in our centres do not pay the full daily fee because they receive Child Care Subsidy (CCS) from the government.
The subsidy you may receive through the CCS will depend on:
Your combined family income
The number of hours you work, study or participate in recognised volunteer work. This is called the 'activity test'. If your child is in the year before school, if you are on a very low income, or if you are on parental leave, you will not have to pass the activity test to receive some CCS.
Your child will need to meet immunisation requirements and you will need to meet residency requirements to be eligible to receive the CCS.
Try our CCS estimator tool here.
You can also calculate what your out of pocket child care costs will be on the government's child care subsidy calculator.
Additional Preschool fee relief
In addition, the NSW Government is providing up to $2110 in fee relief for preschool aged children who are enrolled in the preschool program at SDN Children's Services from 2023.

If your child will be 4 on or before 31 July 2023, this additional funding could mean up to $40 a week in fee relief to your family, on top of the existing child care subsidy.
Read more about the NSW early years commitment. 
If you've read this information and you're still unsure about what you'll pay, please call us or book a centre tour. We're happy to answer your questions.
18 months-2 Babies
Change of clothes x2
Hat – sun safe  
Shoes and Socks
Warm clothes / Jacket (for outside play)
Shoes and Socks
Comforter – soft toy/blanket/dummy
Bottles and milk formula/breast milk
Blanket / Cot sheets
2-3 Toddlers
Spare underwear
Change of clothes
Hat – sun safe
Shoes and Socks
Warm clothes / Jacket (for outside play)
Drink Bottle
Comforter – for rest time
Blankets
3-5 Preschoolers  
Spare underwear
Change of clothes
Hat – sun safe
Shoes and Socks
Warm clothes / Jacket (for outside play)
Drink Bottle
Blankets
360 Virtual Tour
Explore this centre
Early education and child care
What we offer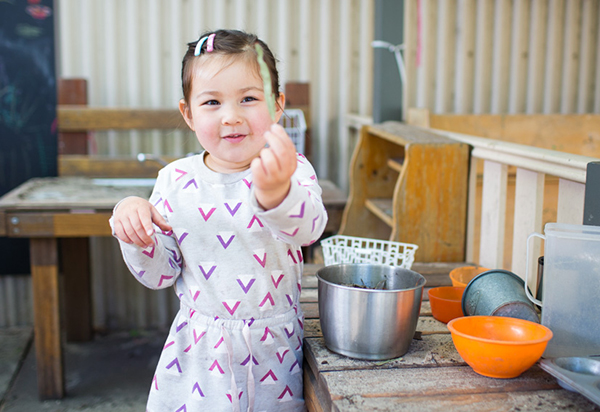 Learn More
Nutrition and Mealtimes
We provide children with a variety of healthy foods, and cater for children with allergies and intolerances.
Interested in how SDN Hurstville can help your child?
Call us today on 1300 831 445
SDN Centres
Other Centres Near Me
Learn more
You may also be interested in...