Situated within the beautiful grounds of the University of Sydney's Cumberland campus in Lidcombe, SDN Ngallia offers early childhood education and child care for 47 children per day from birth to school age.
Many students and staff members from Sydney University and TAFE use the centre, but we also welcome families from the wider community.
Children and families are supported and encouraged to use the languages they speak at home while at the centre. Staff members speak 12 different languages altogether, including English, Cantonese, Mandarin, Vietnamese, Tamil, Hindi, Nepali, Macedonian, Kurdish, Arabic, Croatian, Telugu, Spanish, Serbian and Persian. Our educational program recognises and responds to individual children's strengths, capabilities, culture, interests, current knowledge, ideas and experiences. Learn more about our educational program here. 
'Ngallia' means 'the meeting place of the children' in the local Aboriginal Darug language.
What our families say...
"The staff looking after our son seem to really care about him. He can be very shy. We're very glad the Centre has been so inclusive right from the beginning."
"The carers are excellent. They perform their tasks with skill and enthusiasm. The diversity of staff is a plus too."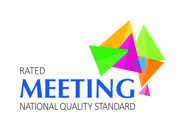 Read our reviews
Reviews from Google
(6)
Just want to give a big shout out to Oznur, Sam and everyone that works with my son in the pre-schoo
...
Read More
I had chance to work at this centre as casual. I found this place welcoming. Educators totally invol
...
Read More
very friendly team and happy children
Great childcare centre. Very happy
Find a vacancy
Our vacancies
Meet the Director - Sam Tang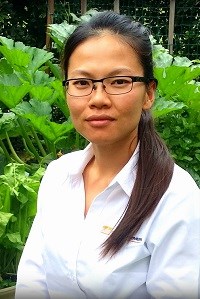 "SDN Ngallia has many diverse cultures and most of our educators can speak more than one language. This has such a positive impact on how we support families within our community."
My qualifications and experience  
I have a Bachelor of Early Childhood Teaching from New Zealand Tertiary College (2010). 
I began my journey at SDN Ngallia in 2013 as the Preschool Room Leader. During this time, I stepped into the Centre Director role while the director at the time was on leave. I had the amazing opportunity of becoming the full-time Centre Director in early 2014. 
Prior to moving to Australia, I worked across various roles in New Zealand since 2005 including holding a role as the Room Leader for Babies and Toddlers for about five years. 
What I'm most passionate about in my role  
As SDN Ngallia has many diverse cultures, I am passionate about learning new languages. I can speak fluent Cambodian and English, a little bit of Mandarin and understand some Thai. Most of the educators at SDN Ngallia can also speak 2 to 5 languages. 
Being able to speak multiple languages has such a positive impact on how we interact and support families within our community. It also allows me to effectively work alongside my team who are from different cultures and speak different languages as well. 
What I love about working with SDN 
What I love about working at SDN Ngallia is the community and the support I have receive from my team and my manager.  
No one day is the same. The challenges through COVID over the past few years has been hard on children, families, educators and myself. I couldn't have done it without their encouragement. 
We really bring out the best in each other and push on another to be more creative.
A little bit more about me  
Outside of work, I love fruits carving, knitting, and quilting. I enjoy carving roses out of watermelon, making fruit platters and arranging dessert tables. 
I am adventurous and my dream is to travel and live on the road around Australia with my family in our caravan for at least one year. This will allow me to truly explore all the remote areas around the country, learn about the local cultures, try new food, spend time in nature and get to meet new people. 
Infant & toddler educational program
Growing bodies need movement and exercise. Growing minds need stimulus and exploration. Growing hearts need opportunities to play and mix with others.
At SDN we know that the best thing we can do for your infant or toddler is to support them to grow and develop in safe, unhurried, nurturing and challenging environments.
Because infants and toddlers are naturally curious, our centres have well-equipped indoor and outdoor areas that will keep your child moving and give them daily opportunities to explore their limits and grow their abilities.
Your child is unique and so we will devise a learning and development program within our curriculum pillars, based on what we know about your child's interests, learning and development. Because they will always be changing and growing, we consistently review the program to ensure we are keeping up with your child's development, providing them with the best learning opportunities.
Read more about our practice with children here.
Preschool educational program
Get more than school-ready, get life-ready 
Getting school-ready is a journey. It begins with your child's very first day at our welcoming early education and care centres and continues with our dedicated preschool program.
Developed by university-trained early childhood teachers, our preschool program focuses on the whole child. Children learn to make friends and work together, while gaining the skills and independence they need to thrive through the big transition to school.
Our preschool program follows an evidence-backed, play-based learning approach. Children have fun and follow their curiosity, while we weave in vital skills and learning outcomes.
SDN uses Australia's Early Years Learning Framework to explore a diverse curriculum from science to social justice. Our days are predictable but flexible, blending structured and spontaneous learning, free play, movement and quiet time.
Our curriculum pillars are:
 Relationship and social skills

 Critical thinking and problem solving

 Early literacy and numeracy

 Health, wellbeing and movement
 Science, technology, construction and design
 Nature play and sustainability

 Creative arts
 Equity and social justice
Our centres have a transition to school program where our teachers and educators work together with local schools to prepare your child for a smooth transition, and support families through the process.
Read more about our preschool program here.
Families in our urban-based centres often call our outdoor areas their "green oasis".
SDN's outdoor spaces provide opportunities for children to enjoy themselves and have adventures. They're safe environments for children to run, jump and yell, make mud cakes, and use their energy.
Outdoor spaces provide more than physical benefits. Even though you may think that children only play outside to have fun, they're also improving their thinking, social, and emotional skills. When they're playing outside, they're inventing games, learning about the world at their own pace, and figuring out social customs like turn-taking.
These are just some of the reasons SDN invests in developing new, award-winning outdoor spaces with natural designs that inspire children's curiosity, physical play, and social play.
SDN acknowledges the Wangal and Deerubbin people as the traditional owners of the area now known as Lidcombe.
SDN Ngallia opened on 23 June 1997 after SDN successfully submitted an expression of interest to the University of Sydney to manage the child care and education centre on its Cumberland campus. Ngallia means 'the meeting place of the children' in the local Aboriginal Dharruk language.
In 2000, SDN Ngallia temporarily closed because of the Sydney Olympics, and children were sent to other SDN centres for the duration of the games.
Since its beginnings, SDN Ngallia has undergone many changes, always maintaining and reflecting a strong connection with families in this vibrant and diverse university community.
Read more about SDN Ngallia's history here.
From 7 August 2023, our fees will be $167 per day for children under three years old and $151 per day for children three years and over. 
The majority of families in our centres do not pay the full daily fee because they receive Child Care Subsidy (CCS) from the government.
The subsidy you may receive through the CCS will depend on:
Your combined family income
The number of hours you work, study or participate in recognised volunteer work. This is called the 'activity test'. If your child is in the year before school, if you are on a very low income, or if you are on parental leave, you will not have to pass the activity test to receive some CCS.
Your child will need to meet immunisation requirements and you will need to meet residency requirements to be eligible to receive the CCS.
Try our CCS estimator tool here.
You can also calculate what your out of pocket child care costs will be on the government's child care subsidy calculator.
Additional Preschool fee relief
In addition, the NSW Government is providing up to $2110 in fee relief for preschool aged children who are enrolled in the preschool program at SDN Children's Services from 2023.
7
If your child will be 4 on or before 31 July 2023, this additional funding could mean up to $40 a week in fee relief to your family, on top of the existing child care subsidy.
Read more about the NSW early years commitment. 
If you've read this information and you're still unsure about what you'll pay, please call us or book a centre tour. We're happy to answer your questions.
0-2 Babies
Change of clothes x2
Hat – sun safe  
Shoes and Socks
Warm clothes / Jacket (for outside play)
Shoes and Socks
Comforter – soft toy/blanket/dummy
Bottles and milk formula/breast milk
Blanket / Cot sheets
2-3 Toddlers
Spare underwear
Change of clothes
Hat – sun safe
Shoes and Socks
Warm clothes / Jacket (for outside play)
Drink Bottle
Comforter – for rest time
Blankets
3-5 Preschoolers  
Spare underwear
Change of clothes
Hat – sun safe
Shoes and Socks
Warm clothes / Jacket (for outside play)
Drink Bottle
Blankets
360 Virtual Tour
Explore this centre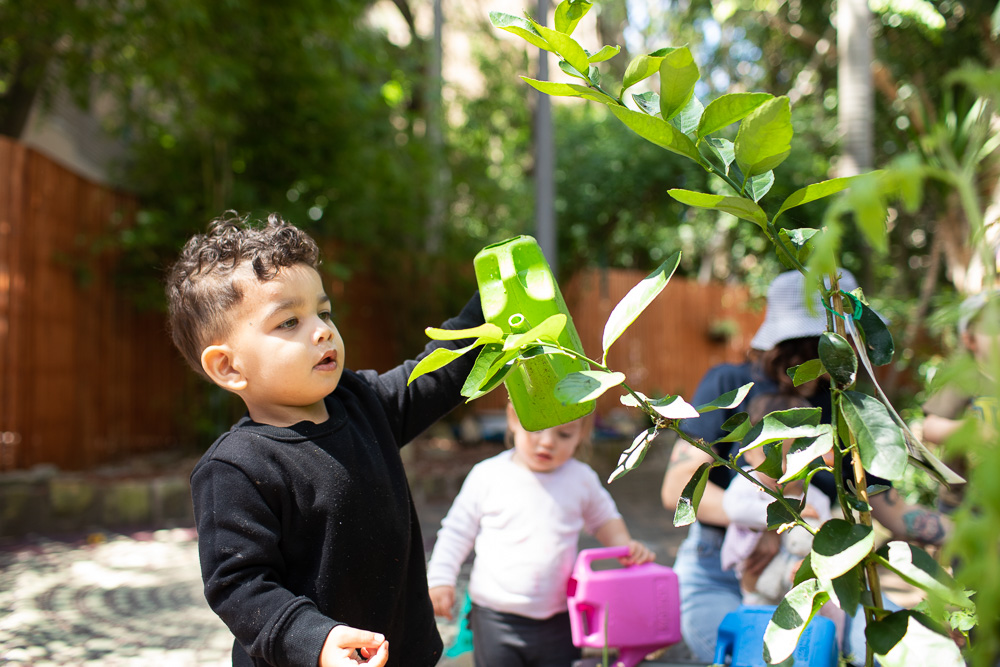 Our preschool program in practice
Nature play & sustainability—outdoors walks at SDN Ngallia, Lidcombe -
Interested in how SDN Ngallia, Lidcombe can help your child?
Call us today on 1300 831 445
SDN Centres
Other Centres Near Me
Learn more
You may also be interested in...