Situated on the beautiful grounds of the University of Sydney's Cumberland campus in Lidcombe, SDN Ngallia offers early childhood education and child care for 47 children.
Many students and staff members from Sydney University and TAFE use our centre but we also welcome all families from the community.
Children, their families and visitors are encouraged to speak in the languages they speak at home at the centre. Staff members speak 12 different languages altogether, including English, Cantonese, Mandarin, Vietnamese, Tamil, Hindi, Nepali, Macedonian, Kurdish, Arabic, Croatian, Telugu, Spanish, Serbian and Persian.
SDN Ngallia welcomes children with disabilities or developmental delays, and families in need of support and assistance.
Ngallia means 'the meeting place of the children' in the local Aboriginal Darug language.
e
What our families say...
"The staff looking after our son seem to really care about him. He can be very shy. We're very glad the Centre has been so inclusive right from the beginning."
"The carers are excellent. They perform their tasks with skill and enthusiasm. The diversity of staff is a plus too."
Learn more
Nutrition and mealtimes
We provide children with a variety of healthy foods, and cater for children with allergies and intolerances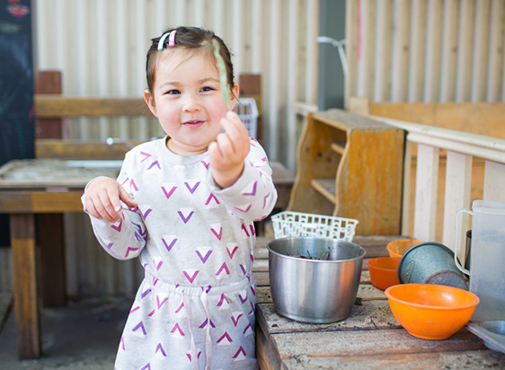 Centre History
SDN Ngallia, Lidcombe History
SDN acknowledges the Wangal and Deerubbin people as the traditional owners of the area now known as Lidcombe.
SDN Ngallia opened on 23 June 1997 after SDN successfully submitted an expression of interest to the University of Sydney to manage the child care and education centre on its Cumberland campus. Ngallia means 'the meeting place of the children' in the local Aboriginal Dharruk language.
In 2000, SDN Ngallia temporarily closed because of the Sydney Olympics, and children were sent to other SDN centres for the duration of the games.
Since its beginnings, SDN Ngallia has undergone many changes, always maintaining and reflecting a strong connection with families in this vibrant and diverse university community.
Interested in how SDN Ngallia, Lidcombe can help your child?
Call us today on 1300 831 445
SDN Centres
Other Centres Near Me