SDN Mosman provides early childhood education and child care for 43 children per day in the beautiful Lower North Shore suburb of Mosman, and has a real feel of being 'a home away from home'.
Our team is well-established and provides a welcoming and caring environment for children and families. We provide separate indoor and natural outdoor spaces for our younger (babies and toddlers) and older children, ensuring that each group has their own space in which to safely explore, grow and learn. The shaded outdoor playground encourages children to build their motor skills, and confidence.
Children learn best when they are most interested in what they are doing, so we plan projects and learning experiences based on children's interests. We also provide a rich learning environment in which we: celebrate diverse cultural festivals and events such as Christmas, Diwali and NAIDOC week; grow our own vegetables, have a worm farm and recycle to teach children about sustainability, and engage with our local community through excursions and by inviting the community into the centre. You can learn more about our educational program here.
What our families say...
"The staff are approachable, helpful, and knowledgeable and have a genuine interest in my child."
Flexible sessions at SDN Mosman

You don't have to be permanently enrolled to book a full or half day flexible session at SDN Mosman and get access to beautiful indoor and natural outdoor play areas, care by our friendly and experienced educators and meals prepared by our own cook!
Our flexible sessions are great for families who don't wish to commit to a permanent weekly booking.

Find out how it works.
Looking for somewhere to host your Mothers Group?
SDN Mosman is excited to be able to offer their centre's grounds and facilities to mothers groups on Fridays. We provide your mothers group with a beautiful and safe outdoor play area for your little ones to comfortably enjoy, and refreshments will be available for the mothers, along with ample space for their cars and prams. If you would like to find out more and book SDN Mosman to host your Friday Mothers Group, contact our centre director Leanne DeMatos via email here or on 02 9307 2300.
Learn more
Child-led Education
Discover the four elements that shape our educational program.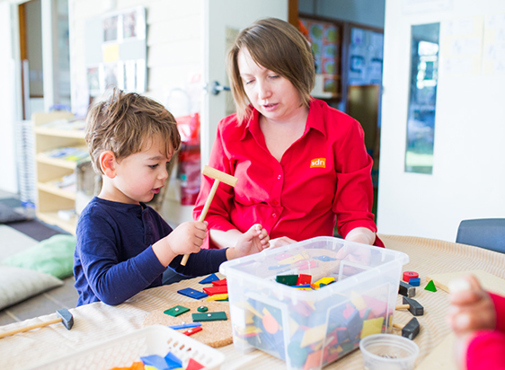 Centre History
SDN Mosman History
The traditional owners of the area now known as Mosman are the Kuringgai People.
SDN Mosman opened in 1944 at 33 Brierley Street, a residential house that had been purchased by SDN in 1943 and converted into a nursery school. Mosman's large Federation-style houses were home to professionals and artists. During the Second World War, the need for long day care and nursery schools in the Mosman area became apparent as more women took up work, or worked for longer hours.
In 1976, the nursery school's 'old cottage' house was replaced with the current building, which still provides a light-filled, modern environment for the education and care of children more than 40 years later.
Since its beginnings, SDN Mosman has reflected a strong connection with local families, and supported SDN's vision and commitment to enhance the wellbeing and development of all children.
Interested in how SDN Mosman can help your child?
Call us today on 1300 831 445
SDN CENTRES
Other Centres Near Me