About this Centre
SDN Paddington is an 89-place centre providing early childhood education and child care for the children in the Paddington community.
Our recently renovated centre has five indoor play rooms and two rooms for infants and toddlers, as well as two separate playgrounds – one designed especially for children under two. The design of our centre reflects our belief that children should learn and play in open, uncluttered spaces, with materials that encourage curiosity and exploration.
We see all children as capable and competent learners and our team of 26 qualified staff are committed to supporting your child's capacity and building their responsibility. Our educators work with smaller groups of children throughout the day, fostering an environment where children share their knowledge with their peers – or even with their older or younger siblings. We encourage siblings to interact throughout the day and we value the support they can offer each other.
There are numerous art galleries in the Paddington community. We regularly take the children to visit these and draw on them as inspiration for creative arts in our preschool educational program.
SDN Paddington welcomes children with disabilities or developmental delays, and families in need of support and assistance.
Our families say …
"I like the general atmosphere of the centre. As my child has long days I value the opportunity to visit siblings throughout the day. The learning is presented in a varied curriculum which I see each week in the newsletter."
"Having used several centres over the years it is clear to me that SDN Paddington is by far the best equipped and staffed. It is a joy to be involved with the centre and staff."
Learn more
Nutrition and mealtimes
We provide children with a variety of healthy foods, and cater for children with allergies and intolerances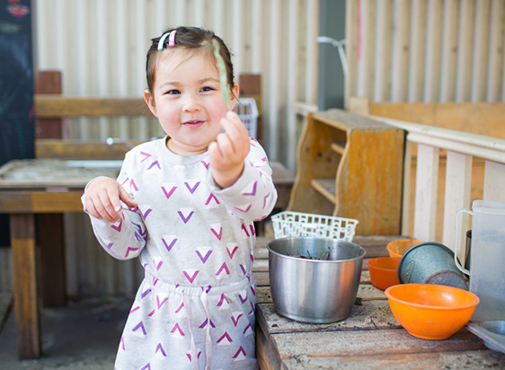 Centre History
SDN Paddington History
The traditional owners of the Paddington area are the Gadigal People of the Eora Nation.
SDN Paddington officially opened on 29 November 1924. Then known as The Eastern Suburbs Day Nursery, it was run out of The Grange in Heeley Street – a colonial style villa built in 1868 and originally named Olive Bank Villa – purchased for £2,000 thanks to local fundraising and donations from Paddington, Waverley and Woollahra councils. At the time, Paddington, like many of Sydney's inner suburbs once home to grand residences on large estates, had been subdivided into rows of terrace houses crowded with working families in need of child care services.
In 1969, a new nursery school building was added, thanks to fundraising by the nursery's committee, particularly Mr and Mrs Supple, who held weekly dances at Paddington Town Hall for many years. SDN Paddington has recently undergone extensive renovation to meet the needs of children, families and staff.
Since its beginnings, SDN Paddington has undergone many changes and has always maintained and reflected a strong connection with the families of this vibrant and diverse community.
Interested in how SDN Paddington can help your child?
Call us today on 1300 831 445