About this Centre
 SDN Marrickville is a 57-place centre in the heart of Sydney's inner west, offering early childhood education and child care for our local community of young and growing families.
Our experienced and qualified team of early childhood teachers and educators focus on each child's individual interests. Strong, respectful relationships underpin our practices and we nurture those relationships from the moment a family joins the SDN community.
SDN Marrickville is within walking distance of the train station, police station, fire brigade, library, parks, restaurants and shops. We take advantage of being part of this vibrant community often organising excursions to the local Salvation Army store to donate items that the children are happy to give away, participating in story time at the local library, and stretching our legs at the local parks.
SDN Marrickville welcomes children with disabilities or developmental delays, and families in need of support and assistance.
Our families say…
"I love the family and community feel; the intelligent, engaged and responsible staff; the beautiful gardens and the fact that our son is so happy there."
"The environment is great. The outdoor area helped us to decide to enrol our child here."
Learn More
Nutrition and mealtimes
We provide children with a variety of healthy foods, and cater for children with allergies and intolerances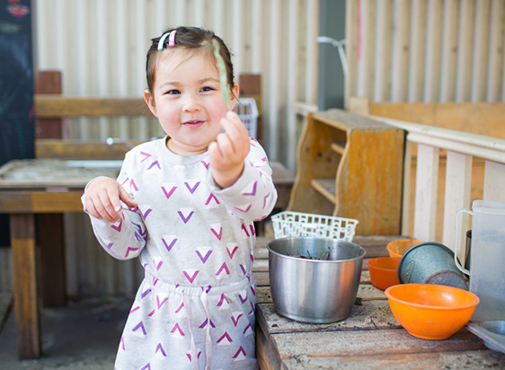 Centre History
SDN Marrickville History
The traditional owners of the Marrickville area are the Gadigal People of the Eora Nation.
SDN Marrickville opened in 1944, providing nursery school education in a long day care setting. Women workers were favoured by many of Marrickville's early manufacturing industries, and their role in the workforce had created a need for long day care. The purpose-built centre on Illawara Road also answered a growing demand for early years education in the 1940s.
The holistic care of children at SDN Marrickville was a priority. The guiding principle was that, in order to fulfil their potential, children needed nourishing food, proper rest and a program of exercise with free and guided play by trained staff. More than 70 years later, SDN Marrickville continues to provide quality child care and education for local children.
Since its beginnings, SDN Marrickville has reflected a strong connection with local families in a diverse, vibrant and multicultural community, and has supported SDN's vision and commitment to enhance the wellbeing and development of all children.
Interested in how SDN Marrickville can help your child?
Call us today on 1300 831 445
sdn centres
Other Centres Near Me