SDN North Sydney is in a serene location, nestled at the end of a quiet cul-de-sac with ample outdoor natural spaces. It is a 75 place centre for children from birth to school age.
SDN North Sydney has a long-standing director who has over 13 years experience at this centre, which has been providing quality education and child care in this community for over 90 years. Our team of culturally diverse and dedicated staff believe in building strong and secure relationships with children and families through an environment of mutual respect and trust.
Our educational program is centred on growing children's capacity and self-confidence by developing learning opportunities that are focused around children's interests and strengths. The centre's natural outdoor spaces, with lush green gardens, are perfect for exploration and discovery and fuelling children's imagination and curiosity. You can learn more about our educational program here.
Looking for somewhere to host your Mothers Group?
SDN North Sydney is excited to be able to offer their centre's grounds and facilities to mothers groups on Mondays and Fridays. We provide your mothers group with a beautiful and safe outdoor play area for your little ones to comfortably enjoy, and refreshments will be available for the mothers, along with ample space for their cars and prams. If you would like to find out more and book SDN North Sydney to host your Monday or Friday Mothers Group, contact our centre director Carol Soleymanbik via email here or on 02 9927 8400.
Special classes available for SDN North Sydney children
SDN North Sydney has introduced some special classes for their toddlers and pre-schoolers, that run on Mondays and Fridays. Aimed at helping children learn through having fun, the special classes include music appreciation, sports fundamentals, yoga for kids, Mandarin lessons, and local excursions. Click here to see detailed information on the special classes.
Learn More
Child-led Education
Discover the four elements that shape our educational program.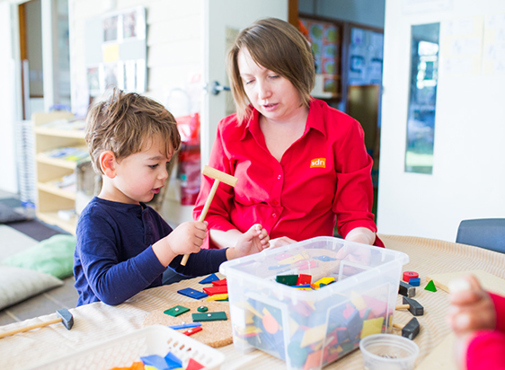 Centre History
SDN North Sydney History
The traditional owners of the North Sydney area are the Cammeraigal People of the Eora Nation.
SDN North Sydney officially opened on 11 December 1926. Back then it was known as the Northern Suburbs Day Nursery, located in a bungalow purchased by SDN for £2,600 and renovated. The 'Dorothea MacCallum Cot Room' was named in honour of then SDN President, Lady MacCallum, who had personally donated £100 towards the nursery.
SDN had recognised the need for a nursery in the northern suburbs of Sydney as some mothers had to travel into the city to drop their children at one of SDN's nurseries before travelling back to the northern suburbs again to their workplaces.
On 27 May 1977 the old house was demolished and a new building constructed on the site.
Since its beginnings, SDN North Sydney has undergone many changes, but has always maintained and reflected a strong connection with families in a vibrant and diverse community. This is most recently reflected in its name change to SDN North Sydney from its beginning name of SDN Northern Suburbs. This change was done to be a more accurate reflection of the centre's location, as opposed to the generic and outdated initial name.
Interested in how SDN North Sydney can help your child?
Call us today on 1300 831 445
sdn centres
Other Centres Near Me